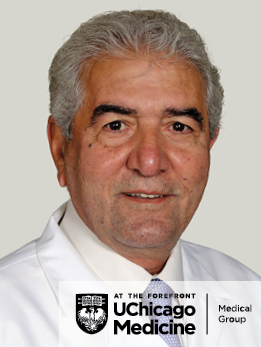 UChicago Medicine Medical Group is comprised of UCM Care Network Medical Group, Inc. and Primary Healthcare Associates, S.C. UChicago Medicine Medical Group physicians are not employees or agents of The University of Chicago Medical Center, The University of Chicago or UChicago Medicine Ingalls Memorial.
Close
708-342-3000
Dr. Rahmani is a board-certified internist specializing in endocrinology. As such, he is experienced in diagnosing and treating conditions related to the endocrine system, including diabetes, thyroid diseases, and metabolic disorders. He has over thirty years of experience practicing in the south suburbs as a member of Ingalls Medical Staff.
Dr. Rahmani takes great pleasure in helping his patients feel better and he continues to find his role in saving lives spiritually rewarding. He shared these values with his children; he counts guiding his children to become physicians as one of his greatest achievements.
Dr. Rahmani wants his patients to know he truly cares. He reminds his colleagues, medical students, and office staff that all patients' concerns should be addressed to their complete satisfaction.
Dr. Rahmani speaks English, Azari Turkish, and Farsi.
UCM Medical Group physicians with privileges at the hospital are independent physicians. They are not employees or agents of the University of Chicago Medical Center or Ingalls Memorial.