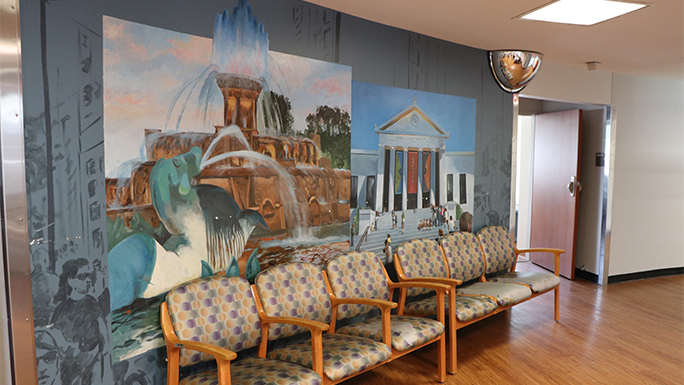 Our inpatient psychiatry programs are available at UChicago Medicine at Ingalls - Harvey. These therapeutic behavioral health treatment services offer a variety of programs to adolescents, adults and older adults.
Inpatient Psychiatric Hospitalization
Adolescents ages 12-18 (Available at Comer Children's Hospital)
A safe, structured, and therapeutic environment designed to identify and treat counterproductive behaviors and current stressors, while building on an individual's strengths and supports.
Adults ages 18 to 65
Superior behavioral health treatment including group therapy, medication management, individual and family therapy.
Older Adults
This specialized care program offers treatment in a warm and gentle environment, accommodating the specific needs of older adults struggling with physical, emotional and cognitive challenges.
Consult-Liaison Psychiatry
Patients who are hospitalized for a medical or surgical illness frequently experience emotional distress. This distress can add significantly to a patient's illness and impede their recovery. Additionally, patients with pre-existing psychiatric illness may experience increased challenges during an acute illness.
UChicago Medicine's Hyde Park campus and Ingalls Memorial offers consult-liaison psychiatry service that provide bedside evaluation and management of all medically ill hospitalized patients at the request of their primary physicians. Our multidisciplinary team is comprised of psychiatrists with certification in psychosomatic medicine, residents, medical students and social workers.
No-Cost, Confidential Assessment & Referrals
In order to quickly respond to your needs, a trained mental health professional is available 24 hours a day, 7 days a week.
You can make an appointment by calling:
Ingalls Memorial at 708-915-6411
UChicago Medicine at 773-702-3858
Our assessment and referral staff assesses each individual to determine his or her behavioral health needs and makes referrals based on those needs.
Our Inpatient Psychiatry and Psychology Locations
Request an Appointment
The information you provide will enable us to assist you as efficiently as possible. A representative will contact you within one to two business days to help you schedule an appointment.
To speak to someone directly, please call 1-888-824-0200. If you have symptoms of an urgent nature, please call your doctor or go to the emergency room immediately.
Read more about psychiatry and psychology