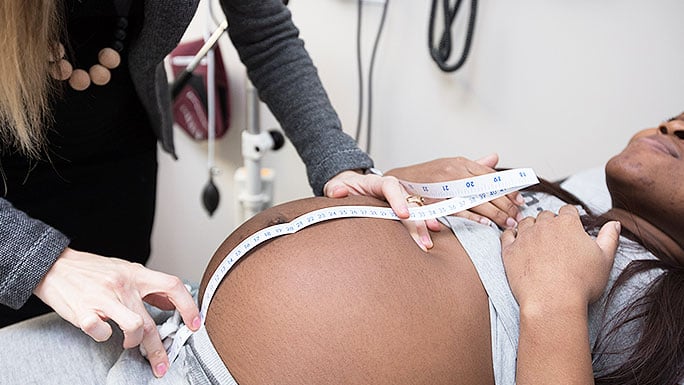 Partnering With You for Prenatal Care
During prenatal care at the Family Birth Center, our doctors, midwives and obstetric nurses offer more than medical expertise. Our team is genuinely interested in coaching you through a healthy pregnancy and an optimized childbirth experience.
Prenatal care is available at each of our Family Birth Center locations.

During your prenatal appointments, we encourage you and your spouse, partner or co-parent to feel comfortable asking questions.
Our goals are to:
Monitor your and your baby's health during pregnancy, exploring every possible opportunity to support healthy fetal development
Help you understand physical and emotional changes you may experience during pregnancy
Help you prepare for and understand what you might expect during labor and your child's birth
Most expectant moms start with monthly prenatal visits. Usually, we can schedule the first fetal ultrasound as early as seven to eight weeks, giving you an exciting first peek at your little one during your first prenatal visit. At each prenatal appointment, our specialists conduct common prenatal tests and assessments to monitor your health and your baby's development.
If we detect a high-risk condition in you or your baby, we'll connect you with our team of maternal-fetal medicine experts for diagnostic assessment and specialized risk management care.
Prenatal visits usually increase to twice a month between weeks 28 and 34, then weekly until you go into labor. The appointment schedule can vary on an individual basis.
If you have questions between visits, please do not hesitate to call your care team:
At Family Birth Center - Hyde Park
Call us at 773-702-6118, or send a message online using the MyChart patient portal.
At Family Birth Center - Harvey
Call us at 708-915-CARE (708-915-2273).
Bring a list of your questions you have about pregnancy and childbirth.
Know the start date of your last period.
Be prepared to discuss personal and family health history for both biological parents.
Bring a list of your current medications.
Bring your immunization record.
Bring your insurance card.
If you started prenatal care at a different hospital or birth center, bring your medical records.
Find Prenatal Care with an Obstetrician or Midwife Near You
Prenatal & Family Classes at the Family Birth Center
The Family Birth Center - Hyde Park offers a variety of prenatal and family classes. Especially if this is your first pregnancy — and even if it isn't — we encourage you and your spouse, partner or co-parent to take prenatal classes and a birth center tour. We even offer a class to help grandparents prepare for your little one's arrival.
Read more about our Family Birth Center prenatal classes, what we offer, and what you can expect.
Pregnancy and Childbirth Articles