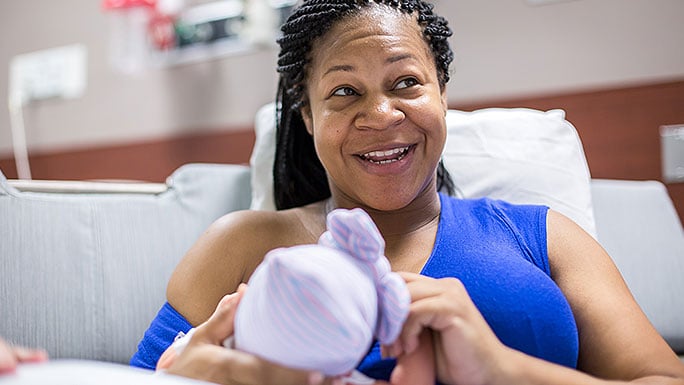 Your breast milk is the most natural form of nourishment for your baby. Breastfeeding offers many health benefits for babies and mothers and helps sustain the bond initially formed during pregnancy.
Breastfeeding Guidance at Your Bedside
At the Family Birth Center, your entire care team is specially trained to help you and your newborn get a healthy start to breastfeeding. As a Baby-Friendly designated birth facility, our team is committed to supporting the American Academy of Pediatrics (AAP)-endorsed Ten Steps to Successful Breastfeeding.
Additionally, certified lactation consultants are readily available to offer expert support during your hospital stay. Our team, which provides the same guidance as that of private lactation consultants, helps you:
Recognize and follow your baby's feeding cues
Find comfortable feeding positions for you and your baby
Learn to help your baby latch on
Learn to manage your breast pump
Learn to manage breastfeeding difficulties for baby and mother
Understand how your diet affects nutrients in your breast milk
Ongoing Lactation Support
At the Family Birth Center, breastfeeding support continues beyond your hospital stay. Our lactation consultants remain accessible to answer your questions by phone. We also offer a weekly support group for breastfeeding moms. New members are always welcome.
Free Lactation Support Line:
773-702-8885
Connect with a certified lactation consultant at the Family Birth Center.
Pregnancy and Childbirth Articles