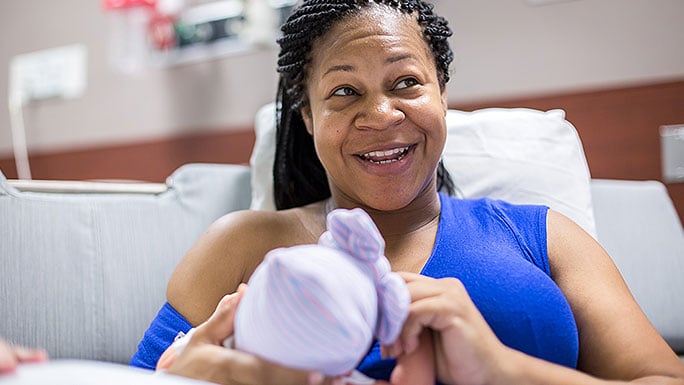 Human milk is the most natural form of nourishment for your baby. Breastfeeding, also called chestfeeding, offers many health benefits for babies and parents and helps sustain the bond initially formed during pregnancy.
At the Family Birth Center, our team offers expert guidance and resources to support your family to the fullest extent, from your child's birth through the end of your breastfeeding or chestfeeding journey.
Prenatal Guidance for Expectant Parents Who Choose to Breastfeed or Chestfeed
Planning Ahead
We offer prenatal classes for expectant parents who plan to breastfeed or chestfeed, where you and your partner or a support person can learn the benefits and what to expect.
Breastfeeding and Chestfeeding Resources for Expectant Parents
Postpartum Breastfeeding and Chestfeeding Guidance at Your Bedside
Getting Started
At the Family Birth Center, your entire care team is specially trained to help you and your newborn get a healthy start to breastfeeding. As a Baby-Friendly designated birth facility, our team is committed to supporting the American Academy of Pediatrics (AAP)-endorsed Ten Steps to Successful Breastfeeding.
Additionally, certified lactation consultants are readily available to offer expert support during your hospital stay. Our team, which provides the same guidance as that of private lactation consultants, helps you:
Recognize and follow your baby's feeding cues
Find comfortable feeding positions for you and your baby
Learn to help your baby latch on
Learn to manage your breast pump
Learn to manage breastfeeding difficulties for baby and mother
Understand how your diet affects nutrients in your breast milk
Resources for Breastfeeding and Chestfeeding Parents
Expert Guidance to Support Your Breastfeeding or Chestfeeding Journey
Baby Bistro Breastfeeding Support Group
At the Family Birth Center, breastfeeding support continues beyond your hospital stay. We offer a free weekly support group for breastfeeding parents. New members are always welcome.
Join Our Baby Bistro Breastfeeding and Chestfeeding Support Group
Lactation Support Warm Line
Additionally, our lactation consultants remain accessible to answer your questions by phone. Leave a message on our warm line and a certified lactation consultant will call back to discuss your questions and concerns.
Prenatal Breastfeeding and Chestfeeding Resources
Take advantage of opportunities to learn as much as you can and plan ahead as you prepare to welcome your little one.
Postpartum Resources for Breastfeeding and Chestfeeding Parents
Our Baby Bistro support group and warm line offer direct access to our experienced team of certified lactation consultants.
Learn more about other helpful resources for parents who choose to breastfeed or chestfeed.
Breastfeeding and COVID-19
COVID-19 vaccines and pregnancy: What to know if you're pregnant, trying to conceive or breastfeeding
Some people have questions about if COVID-19 can be passed to a baby from breastfeeding.
A lot is still unknown about how COVID-19 is spread. Person-to-person spread is believed to happen mainly from respiratory droplets passed on when an infected person coughs or sneezes. This is like how influenza (the flu) and other respiratory pathogens spread.
In some studies on COVID-19 and another coronavirus infection called Severe Acute Respiratory Syndrome (SARS-CoV), the virus has not been found in breast milk. However, we do not know if the COVID-19 virus can be passed in breast milk.
Breast milk gives protection against many illnesses. There are rare times when breastfeeding or feeding expressed breast milk is not recommended.
CDC does not have specific guidelines for breastfeeding when infected with a similar viruses such as SARS-CoV or Middle Eastern Respiratory Syndrome (MERS-CoV).
CDC recommends people with the flu keep breastfeeding or feeding expressed breast milk to their baby while taking precautions not to spread the virus to the infant.
These are CDC Breastfeeding Guidelines for people with COVID-19 or who are being tested for COVID-19.
Breast milk is the best source of nutrition for most babies. A lot is still unknown about COVID-19. The decision to start or if to keep breastfeeding must be made by the person who will be breastfeeding along with their family and doctor.
A person who is positive for COVID-19 or has symptoms of COVID-19 and is being tested for the virus must take all precautions to keep from spreading the virus to their baby. Precautions include washing hands before touching your baby and wearing a face mask if possible, when feeding at the breast.
When expressing breast milk with a manual or electric breast pump:
Wash hands before touching any pump or bottle parts.
Follow recommendations for proper pump cleaning after each use.
If you can, have someone who is not sick and is feeling well feed the baby.
Pregnancy and Childbirth Articles