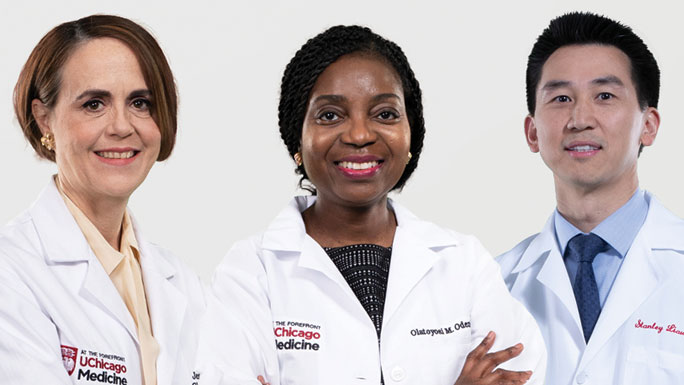 An expert team of researchers, state-of-the-art equipment and considerable financial resources are required to unravel cancer's vast complexity. The University of Chicago Medicine Comprehensive Cancer Center meets this challenge by supporting a broad diversity of more than 200 world-class scientists and clinicians. Our members share a common commitment to conduct innovative cancer research, leverage the power of teamwork, and translate fundamental scientific discoveries to the bedside by enhancing cancer prevention, diagnosis, and treatment.
Our scientists study disease at the molecular level to evaluate how minute variations in genes can trigger processes that initiate abnormal cell growth. Clinical researchers apply the knowledge discovered in the laboratory to create and test promising new treatments and procedures. They bring patients new hope as they test novel therapies for effectiveness and determine optimal dosages.
Clinicians and investigators, who specialize in cancer control, prevention and population research, implement new approaches to screening and prevention, teach state-of-the-art diagnostics to local physicians, and work with local communities to encourage residents to adopt healthier lifestyles and to recognize the value of cancer screening and early detection. Our community researchers also strive to eliminate health disparities among ethnic and social groups.
Our faculty have received numerous awards for their research efforts, and their work is consistently published in high-profile publications. While we are proud of these accomplishments, we also recognize the need to continuously push the envelope and, through cooperative, multidisciplinary initiatives, support innovative and unique research opportunities.
Comprehensive Cancer Center investigators are organized into four integrated scientific programs: