The Digestive Diseases Center at the University of Chicago Medicine is a collaborative, multidisciplinary network of physicians, researchers and allied health professionals who share a legacy of innovation and a common purpose: to improve the lives of patients who suffer from inflammatory bowel disease.
Read a comprehensive overview of our programs and services
We are committed to providing an exceptional experience for you and the patients you entrust to our care. Our IBD specialists are proud to offer:
Exceptional communication — referring physicians can expect communication of findings and a recommended treatment plan within one week of your patient's appointment
Secondary or tertiary care for the most complex and difficult IBD cases, as well as physician-to-physician consults
Timely appointments (one week or less for urgent cases)
For more information or to refer a patient, please call 1-844-UCGIDOC (1-844-824-4362).
We have the most advanced diagnostic tools available, including:
Advanced mucosal imaging techniques for surveillance and detection of cancer and pre-cancerous changes in the bowel mucosa (chromoendoscopy)
CT/MRI enterography
Dedicated small bowel radiology
Endoscopic retrograde cholangiopancreatography
Interventional endoscopy
Enteroscopy, traditional and deep (balloon-assisted)
Flexible sigmoidoscopy and colonoscopy
Positron emission technology (PET) scans
Radionucleotide scanning
Upper GI endoscopy, colonoscopy
Wireless capsule endoscopy (the "Pill Camera")
Endoscopic ultrasound (EUS)
In addition to providing diagnostic services, our IBD specialists partner with referring physicians to create individualized treatment plans for each patient. UChicago Medicine is one of a handful of research centers testing IBD treatments and our physicians have extensive experience with even the newest medications before they are available to other institutions. In some cases, we may recommend surgical therapy to achieve greater success in managing the disease. Our IBD surgeons have expertise in:
Small bowel resection (removal of part of the small intestine)
Segmental colectomy/left or right colectomy (removal of a portion of the colon)
Total abdominal colectomy (removal of the entire colon)
Total proctocolectomy (removal of the colon, rectum, and anus)
Restorative proctocolectomy with ileoanal "J-pouch" anastomosis
Stoma creation for diversion of intestinal contents
Specialized surgical treatment for fistulas and abscesses
Dedicated wound and ostomy care designed to custom-tailor ostomy appliances to individuals
Bowel-sparing intestinal stricturoplasties
When possible, surgeries may be performed using minimally invasive techniques or robotic-assisted devices to reduce scarring and recovery time.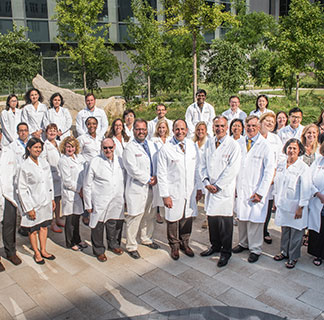 Inflammatory Bowel Disease Center
Inflammatory bowel disease is a chronic condition that requires the expertise of multiple medical specialists. Our team approach ensures that we tailor our treatment plans to offer your patients truly personalized care.
More about the IBD Center
Why Choose the UChicago Medicine IBD Center
We are committed to providing the highest caliber of care to patients who suffer from inflammatory bowel diseases.