Decades of Experience in Genomics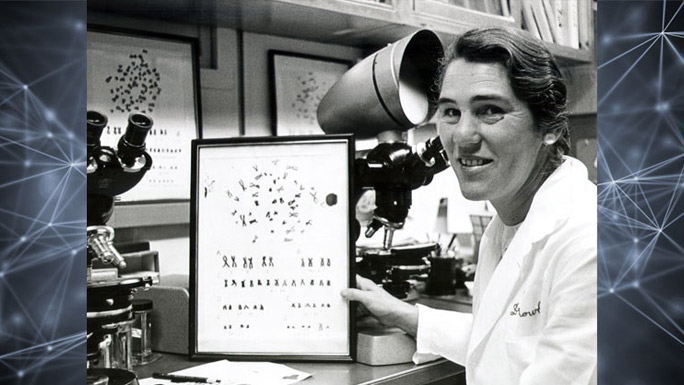 The University of Chicago Medicine has a long history of being at the forefront of molecular and genomic testing. In the 1970s, Janet Rowley, MD, a geneticist at the University of Chicago and the founder of our Cancer Cytogenetics Laboratory, discovered that specific chromosomal changes caused certain types of leukemia. Through her work, it became widely accepted that cancer is a genetic disease. For her pioneering research, she received the prestigious Lasker Award in 1998 and the National Medal of Science, our nation's highest scientific honor, in 1999.

Today, our world-renowned, board-certified pathologists and laboratory scientists bring a depth of expertise that you will only find at one of the country's most respected academic medical centers. Our team members are nationally regarded for their experience and skill in using high-throughput sequencing techniques, such as exome sequencing, to identify disease-causing variants. Others are experts in using precision genomic diagnostics to guide cancer treatment.

Our genomics experts serve on national expert panels that set the standards and guidelines for testing in diagnostic laboratories. Our team also includes the co-founder of a national consortium of more than two dozen academic genomics laboratories. Together, our team has published hundreds of peer-reviewed articles and book chapters on genomic and molecular diagnostics.
A Comprehensive Menu of Tests
We provide an extensive menu of testing for both inherited disorders and cancer, including many tests that are not widely available elsewhere. We offer one of the most
complete menus of tests available for inherited genetics
, including rare tests such as replication factor C, subunit 1 (RFC1) as part of our
ataxia repeat expansion panel
as well as whole genome chromosomal microarray and complementary custom FISH capabilities to facilitate detailed genetic counseling. For our cancer patients, we provide some of the most comprehensive next-generation sequencing and cytogenetic oncology diagnostics in the region. From our pan-cancer Oncoplus NGS panel to one of the most comprehensive Ph-like ALL FISH panels, we provide testing to meet the most complex clinical needs of our patients.
Our Collaborative Approach
Our genomic and molecular laboratories foster a collegial atmosphere among faculty, who share their expertise and passion to advance research and improve patient care. This collaborative approach allows our team to appropriately triage patient samples to provide the greatest benefit to patient care while focusing on laboratory test stewardship and ensuring proper test utilization.
Second Opinions, When You Need Them
In our full-service laboratories, our board-certified pathologists and laboratory scientists are available to provide second opinions on your most challenging cases. When you work with our team, you can expect quick turnaround times, direct communication and exceptional customer service.
A Commitment to Education
We offer ACGME-accredited fellowship training programs in
Laboratory Genetics and Genomics
(LGG) and
Molecular Genetic Pathology
(MGP). We are also a rotation site for students in the
University of Texas MD Anderson Cancer Center
cytogenetic and molecular genetic technology training programs.
Contact Our Labs
If you are looking for a lab that provides exceptional customer service, clear communication and quick test results, we're here to help. To order a test or for more information, please contact us at 1-833-UCM-LABS (1-833-826-5227).
Submit a sample or contact us