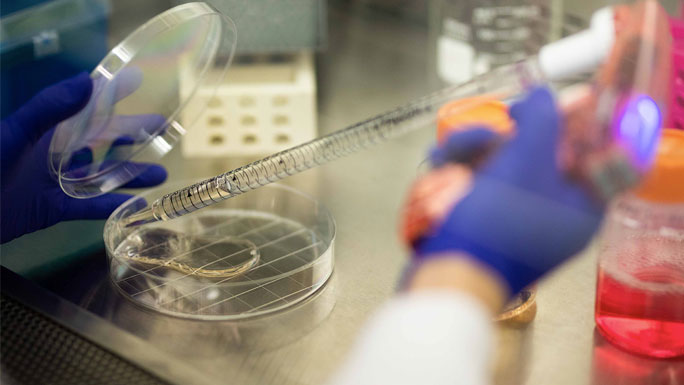 We welcome collaborations with research groups on studies to improve our understanding of a wide variety of diseases, including ataxia, cancer, diabetes and other disorders.
More information on each lab's research expertise is available below.
Within Pathology Molecular Diagnostics, we are interested in pushing the limits of today's genomics technologies for both diagnostics and discovery. We are involved in basic research on various types of cancers and on methodologies for improved detection of complex genomic features associated with cancer. We are also working on using genomics technologies to support cellular immunotherapy research and clinical trials at UChicago, and we are always looking for new collaborators.
Our Genetic Services Laboratories is dedicated to furthering the understanding of rare genetic disorders through research. We work closely with research groups to develop new clinical tests for genetic disorders and translate new research findings to improve clinical care. Our team routinely collaborates on genotype-phenotype correlation studies, new test and technology studies, mutation spectrum studies and other types of studies.
As one of the most notable academic Cytogenetics Laboratories, our commitment to innovation and discovery has made us a leader in the field. In the Cancer Cytogenetics and Constitutional Cytogenetics and Cytogenomics Laboratories, we use classical and cutting-edge technologies to understand chromosome behavior in both inherited disorders and cancer. We participate in a number of clinical trials, collaborate on basic research projects and develop new, evidence-based testing to improve patient care in hematologic and solid cancers, pediatric developmental disorders, prenatal genetic diagnosis and pregnancy loss.
To collaborate on research projects, please reach out to our team members via email or contact us at 1-833-UCM-LABS (1-833-826-5227).
GOAL Consortium formed to empower academic molecular testing laboratories
Founded as a way to split the cost of expensive lab reagents, the Consortium now shares expertise and connects academic pathology testing labs nationwide.