The Cytogenetics and Cytogenomics Laboratory at the University of Chicago Medicine uses various methods of cytogenetic analysis — from routine G-banded chromosome analysis and higher-resolution banding to molecular methods such as fluorescence in situ hybridization (FISH) and whole genome microarray analysis. Using these approaches, our full-service laboratory can provide you and your patients with insights on the cause of a range of disorders, including:
Autism

Congenital anomalies

Developmental delay

Pregnancy loss and male infertility
Our skilled team offers cytogenetic testing to identify constitutional chromosomal abnormalities in many sample types, including:
Peripheral blood

Amniotic fluid

Chorionic villus sampling (CVS)

Products of conception
Expertise in Chromosomal Abnormalities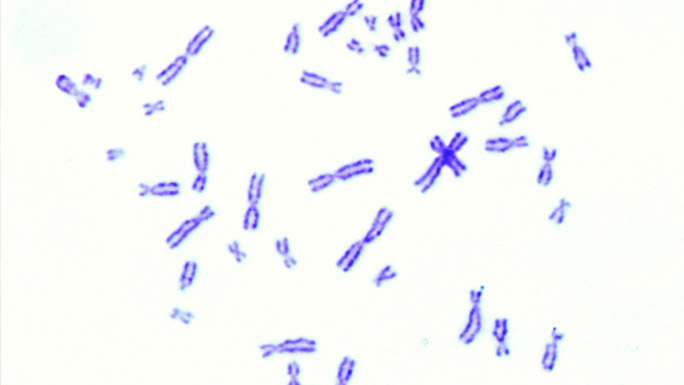 We provide prenatal and postnatal screening and diagnosis of chromosomal abnormalities seen in patients with congenital anomalies, neurodevelopmental disorders and reproductive disorders. Our team of highly experienced ASCP-certified cytogenetic technologists offers a depth of experience that is rarely matched.
Personalized Attention
The UChicago Medicine Constitutional Cytogenetics laboratory is one of the oldest and only remaining laboratories in Chicago providing comprehensive cytogenetic testing for high-risk pregnancies. Our laboratory works closely with clinicians and genetic counselors to ensure appropriate prioritization of testing based on sample availability, gestational age and clinical need. Our ability to perform testing onsite eliminates the need for shipping and reduces the risk of compromising a sample while providing patients with faster results.

For those families with rare cytogenomic findings, custom FISH testing is available to determine recurrence risk and allow for accurate and comprehensive genetic counseling. Lastly, for those families with a specific genetic history that cannot be tested at our facility, the cytogenetic lab offers cell culture services to facilitate send out testing.
Collaboration with Clinicians
Due to the sensitive nature of our samples, clinicians have come to rely on our expertise to help them navigate the different testing options available so they can reach an accurate, rapid diagnosis for their patients. Our interdisciplinary laboratory team works closely with pediatricians, geneticists, genetic counselors and obstetricians/gynecologists, as well as our molecular genomics colleagues to ensure that the right test is ordered for the patient. Unlike large, impersonal reference laboratories, our laboratory staff are eager to answer your calls, address any questions you may have and tailor testing to your specific needs.
Tests Available
A menu of constitutional cytogenetic tests is available on the UChicago Medicine Medical Laboratories website.

At UChicago Medicine, we are committed to delivering a high level of customer service to all of our clients. We aim to provide results quickly and communicate with you directly about your cases. To order a test, please contact us at 1-833-UCM-LABS (1-833-826-5227). More information about our lab is available on our website.

How to Send a Specimen