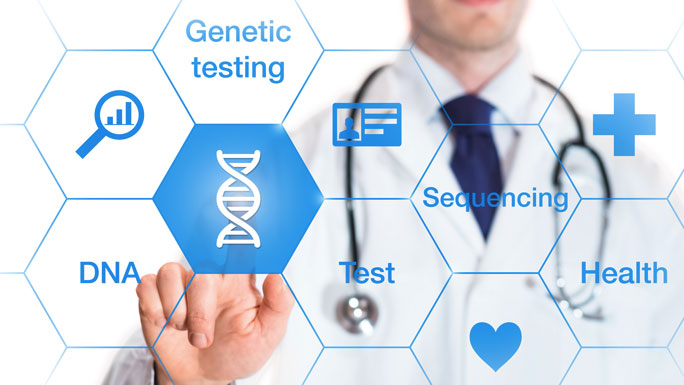 Established in 1998, the University of Chicago Genetic Services Laboratories has one of the most comprehensive menus of genetic tests available for inherited disorders, including neurological disorders, endocrine disorders and hematologic malignancies.

We work alongside other members of the genetics team at the University of Chicago Medicine to provide DNA analysis for a variety of conditions that affect adults and children.
Our molecular diagnostic laboratory is CLIA- and CAP-certified and led by experts in their field. Members of our team have led creation of guidelines to guide clinical laboratories in implementing best molecular testing practices.
Hereditary Hematologic Malignancies
We have an extensive menu of panels to detect hereditary hematologic malignancies, including:
Compared with most other labs, our panels typically include a more comprehensive group of genes implicated in these conditions so you can get the most accurate results for your patients.
Genetic Forms of Ataxia
We perform a high volume of tests like the ataxia exome to detect pathogenic variants in genes associated with ataxia and ataxia-related conditions.

Our laboratory is currently the only one in the country to test for the replication factor C, subunit 1 (RFC1) gene as part of our ataxia repeat expansion panel. This can provide a diagnosis for many patients whose ataxia was not recognized by previous tests. Our positive yield for this test to date is approximately 20%.
Endocrine Disorders of Insulin Secretion
Our laboratory has a national reputation for its testing for monogenic disorders of insulin secretion, including monogenic diabetes. This expertise has evolved through our partnership with University of Chicago researchers who developed the country's first nationwide registry of patients with suspected monogenic forms of diabetes.

As an extension of this work, our lab developed testing to the diagnosis of hyperinsulinism (HI). Unlike many large testing companies, we conduct comprehensive testing for HI including a rapid turnaround testing for congenital hyperinsulinism unresponsive to medical treatment that provides a rapid genetic diagnosis to help guide patient management as quickly as possible.
Exome Sequencing
Our laboratory performs exome sequencing as a first-tier test if required. In addition, when a patient is analyzed using one of our panels, we can offer reflex to exome sequencing on the same sample. Reflex exome testing is beneficial to broaden a patient's analysis when the primary testing is non-diagnostic.
Tests Available
A menu of genetic tests for rare inherited diseases is available on the University of Chicago Genetic Services Laboratories website.

A quick guide to tests, prices and CPT codes and billing information is also available on our website.

When you work with our expert laboratory team, you can rely on us to provide excellent customer service, direct communication and fast results. To order a test, please contact us at 1-773-834-0555. More information about our lab is available on the Genetic Services Laboratories website.

How to Send a Specimen