Cytogenetics is the study of chromosome structure, pathology and function as it relates to genetic diseases. For many types of cancer, cytogenetic studies are critical for accurate diagnosis and prognosis as well as appropriate treatment selection.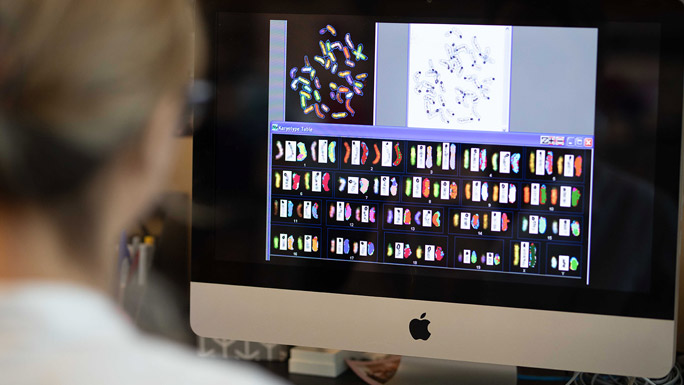 At the University of Chicago Medicine, our commitment to innovation has made us a leader in cancer cytogenetics. The University of Chicago Cancer Cytogenetics Laboratory provides a comprehensive menu of tests, which is used to look for chromosome aberrations, giving insight into a patient's cancer. We offer testing for the following cancers:
Leukemias

Lymphomas

Solid tumors (including HER2 FISH analysis for breast carcinoma)
We understand the importance of a quick and accurate diagnosis, which is why we offer testing on a variety of specimen types, including:
Peripheral blood

Bone marrow/core

Lymph node

Solid tumors or masses

Pleural fluid

Formalin-fixed paraffin-embedded tissue (FISH analysis)
We offer testing that is not widely available at other laboratories, including a comprehensive Philadelphia chromosome like (Ph-like) acute lymphoblastic leukemia (ALL) fluorescence in situ hybridization (FISH) panel as well as whole genome wide chromosomal microarray.

Our board-certified laboratory directors work closely with physicians, clinical trial study coordinators and other members of the care team to provide you with rapid, reliable results.
Decades of Innovation in Cytogenetics
The University of Chicago Cancer Cytogenetics Laboratory has a rich history that dates back to the 1970s, when Janet Rowley, MD, a human geneticist from the University of Chicago, discovered that specific chromosomal rearrangements cause certain subtypes of leukemia. Many later discoveries have led to what is today recognized as personalized cancer care and targeted therapy.

Today, we offer an extensive list of FISH probes as well as G-banded chromosome analysis and whole genome-wide microarray to diagnose cancer. We work closely with our hematopathologists who also provide expert opinion to help guide testing recommendations. This collaboration ensures that you get a complete and accurate picture of your patient's health.
Support for Cancer Clinical Trials
Teamwork is integral to our laboratory's culture, whether we are working in tandem with our clinical or research partners. We are here to deliver the answers you need to provide the best care for your patients.
Tests Available
A menu of cancer cytogenetic tests is available on the UChicago Medicine Medical Laboratories website.

Our team is dedicated to providing a high level of customer service, communicating with you directly and delivering test results as quickly as possible. To order a test, please contact us at 1-833-UCM-LABS (1-833-826-5227). More information about our lab is available on our website.

How to Send a Specimen
Cancer Clinical Trials
UChicago Medicine Comprehensive Cancer Center experts are focused on developing new therapies and new approaches to treat cancer. We do this mostly through clinical trials. We have one of the largest number of cancer clinical trials in the region. Over the last year, we've accrued more than 1,000 patients to cancer clinical trials.