Skip to content
Going the long distance: Young man hikes Pacific Crest Trail after diagnosis of Crohn's disease and rare liver disease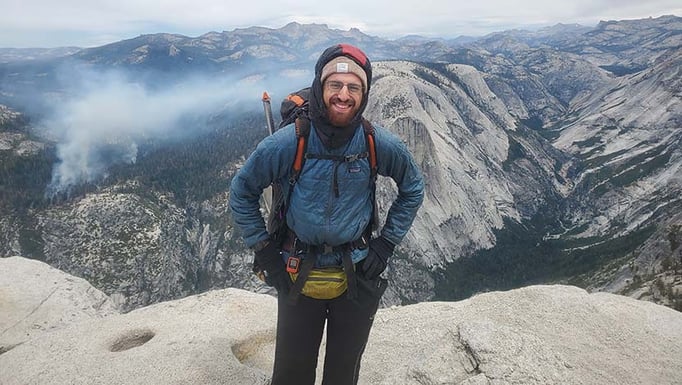 Adam Rubinberg has been hiking the Pacific Crest Trail (PCT) since March while managing primary sclerosing cholangitis and Crohn's disease.
Adam Rubinberg, 25, started dreaming of hiking the Pacific Crest Trail (PCT) in 2018 after his first backpacking trip. The Eagle Scout from Skokie fell in love with long-distance hiking and set his sights on the 2,650-mile PCT, which runs through California, Oregon and Washington from the Mexican to Canadian borders.
But a 2019 diagnosis of primary sclerosing cholangitis (PSC) and Crohn's disease put his hiking ambitions on hold until the multidisciplinary care from an expert team of providers at the University of Chicago Medicine could get him back on the trail.
Rubinberg had brushed off symptoms for months when a liver biopsy revealed he had PSC, a rare autoimmune disease that attacks and scars the bile ducts. Doctors feared he would need a liver transplant or that he had bile duct cancer, a complication of PSC that claimed the life of Chicago Bears great Walter Payton.
After a colonoscopy, Rubinberg also was diagnosed with Crohn's disease, a type of inflammatory bowel disease (IBD). Around 50,000 people in the United States have PSC, and the majority also have IBD. Conversely, only a small percentage of people with IBD have PSC.
Rubinberg's need for complex care led him to UChicago Medicine and the expertise of Michael Charlton, MBBS, Director of the Center for Liver Diseases, and David T. Rubin, MD, Co-Director of the Digestive Diseases Center and Section Chief of Gastroenterology, Hepatology and Nutrition. Charlton was the first to meet with Rubinberg.
Together we were able to use innovative therapies and get Adam back to his life, so he could focus on being a person instead of a patient.
"I thought Adam was going to die. I thought I was going to lose him," said his mother, Amy Rubinberg. "But Dr. Charlton gave us hope."
"My mom worries enough for the both of us, but the cancer possibility definitely rattled me," Rubinberg said of those early days.
Thankfully, Rubinberg didn't have cancer. But a potential liver transplant still loomed. There is no cure or FDA-approved treatment for PSC, but under Charlton's care, Rubinberg's liver enzymes decreased enough to qualify him for a clinical trial overseen at UChicago Medicine by liver disease expert Gautham Reddy, MD.
As part of the two-year trial, there's no way to know whether Rubinberg is on the study medication, cilofexor, or on a placebo, but he has his suspicions because of his remarkable turnaround.
"He went from being someone who was close to transplant candidacy to somebody with a close-to-normal liver blood test profile," Charlton said.
While fighting PSC, Rubinberg was also fighting Crohn's disease.
"These diseases are linked, and Adam's care was a team effort," Rubin said. "We provided him a therapy to control his Crohn's disease, and he did beautifully."
"It really took a small orchestra of expert providers," Charlton said. "Together we were able to use innovative therapies and get Adam back to his life, so he could focus on being a person instead of a patient."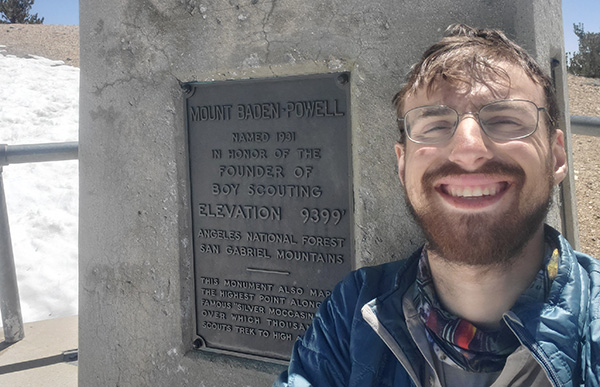 With his Crohn's disease in remission and his PSC under control, Rubinberg's thoughts returned to long-distance hiking. He tested the waters in September by hiking the 273-mile Long Trail in Vermont in 34 days. He still dreamed of hiking the PCT, but a 34-day hike, while grueling, is less complicated than a five-month-long hike up the West Coast while participating in a clinical trial and needing monthly infliximab infusions for Crohn's disease.
Reddy laughed when recalling the moment in January when Rubinberg told him his plans to hike the PCT.
"I was overjoyed," he said. "We want people to live their fullest lives. I'm allowed to work with amazing people – Dr. Rubin, Dr. Charlton, all the nurses and support staff. This is why we do what we do."
Hiking the PCT isn't just a physical feat. It's also a logistical feat. Jacqueline Lopez, RN, MSN, Nurse Associate for Rubin, took charge of figuring out how Rubinberg was going to get infliximab infusions. Flying back to Chicago each month wasn't an option financially – he already had to return twice for the clinical trial. And Rubinberg didn't want to risk being separated from the trail family – "tramily" – he knew he would form.
Lopez found an answer in the company Home Infusion Options, which would work with Rubinberg and his family to ship his medication and hire nurses to administer the infusions in the homes of "trail angels" – volunteers who help hikers along long-distance trails.
"This sounds like something that might be impossible, but with good planning and communication with your treatment team, we're always happy to help patients travel or do whatever they want to do," Lopez said.
"Adam is an inspiration to other patients living with these diseases that no matter how complex their conditions may be, they should strive and expect to be well," Rubin said. "And he's an inspiration to all of us that we're making progress against these diseases. The right team of experts dedicated to working together and helping patients can achieve incredible results."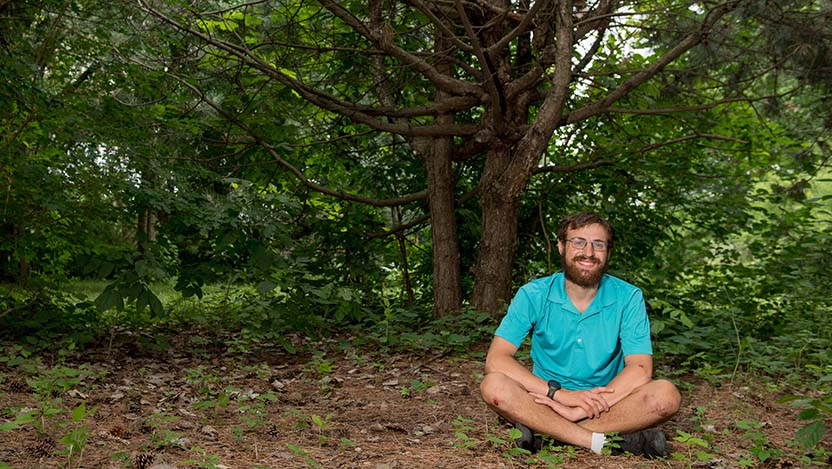 Rubinberg finally set off on the PCT on March 8. He earned the "trail name" of Bard after writing a song about hiking the Long Trail. Rubinberg checks in every night using a GPS device. His father, Robert Rubinberg, coordinates medication shipments with the infusion company. His mother dehydrates food in her kitchen to send to their son. Rubinberg can't risk being low on food with 12 pills to take every morning and six at night. He also can't risk infections, which he's more susceptible to because of his conditions. He has to think and plan more than his fellow long-distance hikers, but it's manageable – just like his chronic conditions.
"The fact that I'm able to do this and have been wanting to for such a long time, even having Crohn's disease and PSC, is amazing," Rubinberg said. "I owe a lot to the group at UChicago Medicine."
Rubinberg dreams of other trails and maybe even van life. He hopes he can inspire others living with Crohn's disease or PSC.
"If my goal was to become an astronaut, maybe this would rule me out," he joked. "But instead of focusing on the extreme constraints, you might be able to do more than you think."
Request an Appointment
The information you provide will enable us to assist you as efficiently as possible. A representative will contact you within one to two business days to help you schedule an appointment.
To speak to someone directly, please call 1-888-824-0200. If you have symptoms of an urgent nature, please call your doctor or go to the emergency room immediately.