Skip to content

Every year since 1994, swarms of people have gathered for two and a half days in celebration of Pierogi Fest in Whiting, Indiana. Tom Dabertin, the festival's chairman, says it might not be possible had he not been treated for a chronic, debilitating form of inflammatory bowel disease (IBD).
Dabertin was diagnosed with ulcerative colitis (UC) 40 years ago. The disease is characterized by inflammation beginning in the rectum, often working its way up the entirety of the large intestine. Dabertin's normally active lifestyle was interrupted with symptoms such as cramping, pain and frequent bowel movements.
"The problem with ulcerative colitis," Dabertin says, "is you never know when it's going to hit. I would liken it to driving down the highway speeding: you never know when you're going to get stopped by the police." He adds, "It forces one to limit their lifestyle in many ways because they're affected by it so much; they're not able to function the way they want to."
Cramping, pain and frequent bowel movements interrupted Dabertin's active lifestyle

David Rubin, MD, co-director of UChicago Medicine's Digestive Diseases Center, explains, "Normally, if our intestines become inflamed, the body will shut the inflammation off after a short period of time. In people with chronic ulcerative colitis, the inflammation continues and can cause a lot of damage." He adds that UC gives patients "a sense of urgency, discomfort, a fear of eating and they can't function."
When his symptoms first appeared, Dabertin went to other health care facilities where he was told he'd need part of his colon removed.
"Back when I was first diagnosed with UC," he says, "I was told that the risk of me getting cancer was up to 500 times the average person."
It wasn't until he started treatment at UChicago Medicine that he began to feel relief. Best of all, he says, he did not need to undergo the painful treatments other institutions had suggested.
40 years of care and 18 years in remission
This upcoming fall, Dabertin will have been a patient at UChicago Medicine for 40 years. Two of the physicians who care for him have retired, and Dabertin began seeing Rubin about five years ago. Today, his biopsies show no dysplasia and a significantly lower risk of colon cancer. He has been in remission for a little over 18 years.
Now, Dabertin is gearing up for this year's Pierogi Fest, which will take place from July 27-29. The festival is a fun homecoming for the people of Whiting and includes a parade, live music, photo ops and of course, the classic Polish dumplings: pierogies.
Dabertin, a third-generation Whiting resident, and two friends created the event with the intent of celebrating Whiting's ethnic heritage. The first festival was held out of a local ice cream scoop shop and sold 1,200 pierogies. Now, the festival is one of the largest events in the Chicago area, with more than 350,000 attendees, 92 vendors and about 600 volunteers.
Living a normal life with ulcerative colitis
Yet while he can eat pierogies thanks to his long-held remission, don't expect to see Dabertin eating the festival's star fried food. "Believe it or not, I don't eat pierogies; I never really liked them. I do eat sausage and all the other ethnic foods out there. I leave the pierogis for everybody else," he says.
This year, Rubin says he and his team will also attend the event for the first time to "see what it's all about."
According to Rubin, Dabertin exemplifies how with the right treatment, living with and overcoming IBD can be easier than you might think.
For more information about Pierogi Fest, visit https://www.pierogifest.net
Inflammatory Bowel Disease Center
Outstanding patient care is at the center of everything we do. Our world-renowned specialists not only continue to push boundaries with their leading-edge research but also integrate the latest therapies into their treatment plans to offer you the most advanced care available.
Learn more about our IBD Center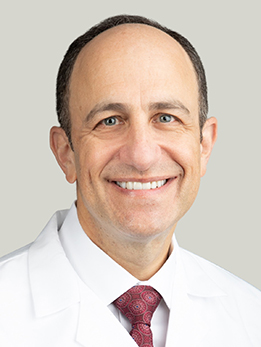 David T. Rubin, MD
Dr. Rubin specializes in the treatment of digestive diseases. His expertise includes inflammatory bowel diseases (Crohn's disease and ulcerative colitis) and high-risk cancer syndromes.
See Dr. Rubin's physician bio
Inflammatory Bowel Disease Related Articles