Skip to content
UChicago Medicine Liver Tumor Program offers personalized care for liver cancer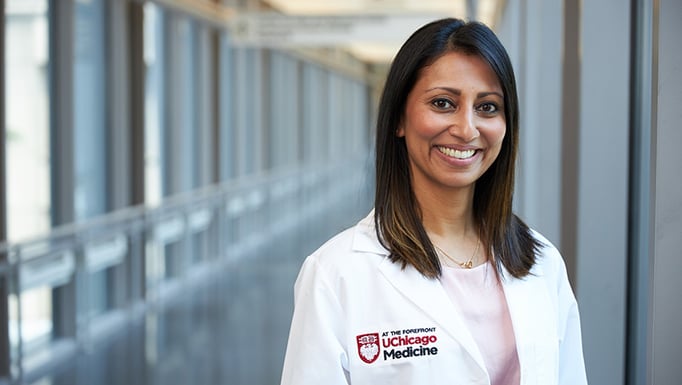 Leaders of the Liver Tumor Program, Anjana Pillai, MD, and Talia Baker, MD.
Primary liver cancer is the second leading cause of cancer deaths worldwide, according to the National Cancer Institute. In the United States, it's the fifth most common cause of cancer deaths among men and the eighth most common cause of cancer deaths among women. Liver cancer death rates have generally been increasing since 1980; from 2003 to 2012, rates increased by 2.7 percent per year.
Liver cancer often occurs in people who already have advanced liver disease or cirrhosis. Common causes include hepatitis B and C, alcoholic liver disease, or fatty liver disease. Optimal treatment for liver cancer involves input from many different specialists, including transplant hepatologists, transplant and hepatobiliary surgeons, oncologists, interventional radiologists, and palliative medicine services.
The University of Chicago Medicine recently launched a new comprehensive Liver Tumor Program to bring together the multidisciplinary expertise needed to personalize the best treatment options for these patients. We spoke to transplant hepatologist Anjana Pillai, MD, Medical Director of the Liver Tumor Program, and transplant surgeon Talia Baker, MD, Director of UChicago Medicine's Living Donor Liver Transplant Program, about the new program, and how they can help improve survival rates for patients living with liver cancer.
UChicagoMed: Why is there a need for a specialized liver tumor program?
Anjana Pillai, MD: The need to recognize these two entities, both end stage liver disease and liver cancer, occurring together is important. Due to the complexity of these patients, a multidisciplinary approach between medical and surgical liver specialists along with other physicians who have expertise in cancer treatment and intervention allows for the best possible outcome for our patients.
Why has liver cancer been increasing in the past several decades?
AP: It largely stems from people with advanced liver disease or cirrhosis. The number one cause for that has been infection with the hepatitis C virus. Although the peak of the HCV epidemic occurred in early 2000s, the downstream detrimental effects-including liver decompensation and liver cancer-will continue and only peak around 2030. People with hepatitis C have somewhere between two to eight percent risk of developing liver cancer. The other very pertinent issue is the rise of nonalcoholic fatty liver disease, or NAFLD. As people have become more sedentary and obese, and are at higher risk for the metabolic syndrome, there is an increase in NAFLD-associated cirrhosis, and thus liver cancer.
What's the advantage of creating a center with different specialties working together?
AP: As we mentioned, the unique thing about liver cancer is that there are often two competing illnesses-end stage liver disease and the cancer itself. You're not dealing with just one thing or cancer in an otherwise healthy organ. Our tumor program offers a comprehensive, individualized treatment approach to these patients by utilizing the expertise of multiple specialists who treat both liver disease and liver cancer. Depending on the stage of the cancer and overall liver function, patients have a multitude of options. Ideally, the ultimate goal for many of these patients would be liver transplantation, as it would cure the cancer and remove the diseased liver. So instead of seeing one physician in a silo, you're able to see several specialists in one visit, which is very unique. It makes sense for something this complex. Talia Baker, MD: It's also a personalized approach. The surgical options for liver cancer are most often part of a multipronged treatment approach. Liver resection as well as liver replacement (transplantation) are both critical pieces of a comprehensive treatment algorithm for liver cancer.
As a surgeon, how much does it help to be working closely with other specialists?
TB: It's essential. As Dr. Pillai said, the interesting thing about liver cancer is it happens in the setting of a sick liver. So when you address these things you have to address both components of it, and that's what makes taking care of patients with liver cancer so complex. Not only are you dealing with the cancer itself, but you're also dealing with the background liver which is sick. Often, the degree of liver disease will limit the potential for surgical intervention. With excellent, highly specialized multidisciplinary care you can often expand the envelope for successful surgical treatment options.
How does this collaboration help you in the way of research?
TB: That's the exciting part. Liver cancer is a relatively new disease. We don't know a lot about it, and yet we don't have a lot of systemic options. We essentially have one chemotherapeutic agent that is approved for treatment for liver cancer (nexavar), but it's not very effective. So, it becomes our responsibility to individualize patient care within the context of research protocols to potentially develop new standards of care for liver cancer treatments.
AP: And in that light, clinical trials and gathering data to figure out what the next best steps are really important. Everyone who comes to our clinic will be given the option to be added to a prospective registry, and the goal is to bank blood and tissue. This allows us to have data in place when we ask a particular question that may be important in treating and prognosticating these patients. The only way to expand our current knowledge is by being collaborative and participating in research projects and clinical trials. As long as we stay collaborative and inclusive, we could do some really novel things. We have a really diverse population in Chicago which is very unique and allows us to learn more about racial disparities in liver cancer.
What's your goal for the program in the next few years?
AP: We want to become one of the major referral centers for liver cancer in this region. One of the great things about the University of Chicago is its wealth of resources for research as well as the many established researchers the institution is known for. We certainly have the ability with our current group to start something wonderful here. TB: One of the definite goals is to become a center of excellence. We are already working with the UChicago Comprehensive Cancer Center to become the liver component of their designated NCI cancer center program. We hope that with this affiliation, we can elevate UChicago to be a major referral center for liver tumor patients in the Midwest.
AP: We also want to be a resource for referring physicians who are faced with a liver tumor in their patients, whether it's benign or malignant. We want to offer easy access and a safe place where physicians in the community can send their patients with the knowledge that they will get a comprehensive evaluation. Often the best and most novel approaches come to fruition when multiple providers combine their expertise and suggest an approach that may not be standard, but may offer the best option for that particular patient.
Liver Cancer Treatment
The UChicago Medicine Liver Tumor Program brings together specialists from our cancer and digestive disease programs to provide care for patients with primary liver cancer as well as bile duct cancer and benign tumors of the liver.
Learn more about liver cancer care