Skip to content
Tough decisions for young breast cancer patients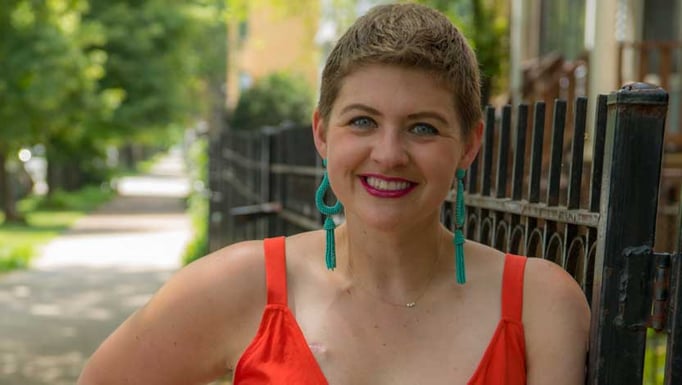 Breast cancer survivor Lexi Fiedler.
At 32, Lexi Fiedler was fit and healthy, a runner with five marathons under her belt and no family history of breast cancer.
So when she noticed a hard spot on her breast in summer 2018, she didn't think much of it. A quick online search seemed reassuring: Given her age, it was probably related to monthly hormone changes and likely to go away.
At her checkup a few weeks later, Fiedler's primary care physician suggested an ultrasound just to be safe.
Only after the ultrasound, mammogram and subsequent biopsy did Fiedler's mind wander to the possibility of breast cancer. She kept reminding herself that only 20% of biopsies end up being cancer. Less than 5% of breast cancer diagnoses are in women under 40 years old.
"This couldn't happen to me," she thought.
She got the call while at her job as a fundraiser in the University of Chicago Medicine and Biological Sciences Development office. The news was devastating: She had stage 2, triple positive breast cancer (ER-positive, PR-positive, HER2-positive), an aggressive form requiring immediate chemotherapy followed by surgery.
Frightened, and thinking of her newlywed husband and two stepsons, Fiedler broke down in tears. A few coworkers, unsure how to console her, packed up her stuff and took her for some midday wine while she waited for her husband to pick her up.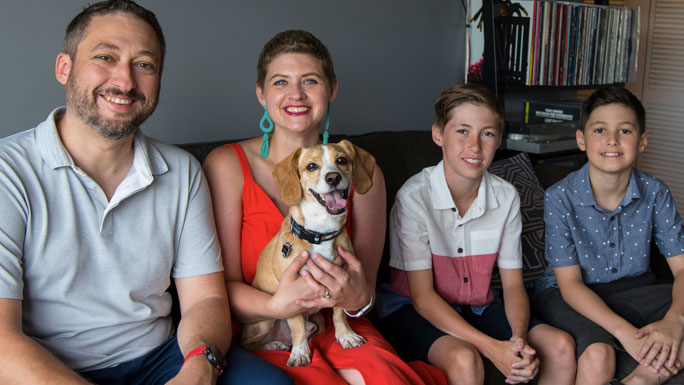 The next day, Fiedler's life became a series of doctor's appointments, blood tests and medical procedures. She gathered information from physicians at UChicago Medicine, which she describes as having "some of the brightest minds in the cancer world." From her work, she knew firsthand that they had the expertise, leading-edge treatments and collaborative style to give her the best possible outcome. Trusting them fully helped her quickly make some big, difficult decisions.
"I definitely agonized over every one of them," she said. "I felt like my doctors were always in my corner and didn't want me to regret my decisions, so they shared all the options with me, and that really helped."
This has been the hardest year, but I've also never felt more loved and supported in my entire life.
Within a matter of weeks, Fiedler would have to make life-altering decisions that most older breast cancer patients don't face: Did she want her eggs harvested and frozen so she could have biological children in the future? Should those eggs be made into embryos with her husband's sperm? Did she intend to breastfeed? Did she want both breasts surgically removed? Did she want her breast surgically reconstructed? If so, did she want an implant or a procedure that reconstructs the breast using her own tissue?
"It's a big responsibility, in the face of a cancer diagnosis, to very quickly contemplate, 'What are my hopes and dreams for having a family? And what lengths am I willing to go? Am I willing to postpone cancer treatment for this?'" said Stacy Lindau, MD, a gynecologist and head of UChicago Medicine's Program in Integrative Sexual Medicine (PRISM), which helps female cancer patients and survivors with sexual health concerns.
Within a week of her diagnosis, Fiedler began an intensive, daily fertility preservation process to freeze her eggs. That was followed by 20 weeks of presurgery chemotherapy.
Her mastectomy, in March 2019, was done at the same time as her DIEP flap reconstruction surgery — a complex microsurgery that transplants tissue and blood vessels from the abdomen to the breast. UChicago Medicine is one of the few places in Chicago to offer this option to breast cancer patients.
Perhaps the toughest decision had been whether she wanted to have children someday. She had been married for only one year and was a stepmom to two boys.
"As soon as the doctors told me I might not be able to have children? Then I realized I still wanted the option," she said. "I ultimately decided if I didn't do it, I might regret it later."
Once she and her husband decided to go ahead with fertility preservation, they also had to decide if the eggs would be fertilized right away. It was a complicated question. The couple was about to go through a very difficult time because of her cancer diagnosis. She opted not to fertilize her eggs.
Lexi Fiedler: Together We Answer Cancer
[MUSIC PLAYING] It was really shocking. I was a newlywed. I guess I still am a newlywed. I've only been married for two years. I have two stepsons. I'm young.
[MUSIC PLAYING]
Having a place and a protocol for talking to young women proactively about their worries and concerns regarding fertility, regarding the future of their family is really important. Oftentimes, women don't even feel that it's a legitimate topic to bring up, even though it is top of mind.
Fortunately, most of the time with breast cancer, we are able to take a few weeks to delay chemotherapy for a few weeks in order to make this important life choice for the patient.
[MUSIC PLAYING]
Using your own tissue, the advantage is that, once the breast is made over time, it will incorporate into a patient's own body and appear very more natural.
My medical team here was exceptional. They connect with one another. They talk to each other about my case. They really provided all of the options of what way that I could select, and what I could do.
[MUSIC PLAYING]
My doctors also encouraged me to continue with my exercise routine because they knew that it would help me through chemotherapy to kind of mitigate some of those side effects, and also just help me feel better and stronger while I was going through something that was trying to take my strength away. I'm not the kind of person who would just lay on my couch or lay on my bed all day. Like, that's just not me.
Those difficult decisions, chemotherapy and surgery are behind her, but Fiedler's treatment is not over. She's taking part in a clinical study about breast cancer patients who don't have radiation therapy. She is finishing up a year's worth of Herceptin and Perjeta infusions, two targeted therapies used to treat HER2-positive breast cancer. This fall, she will have a follow-up reconstructive breast surgery to make her breasts more symmetric. She will continue taking several drugs for the next five to 10 years, including the estrogen-reducing medication anastrozole.
Fiedler is now cancer free. The 33-year-old's hair is growing back and she's back to work, training for a half marathon this fall, and spending time with her friends and family.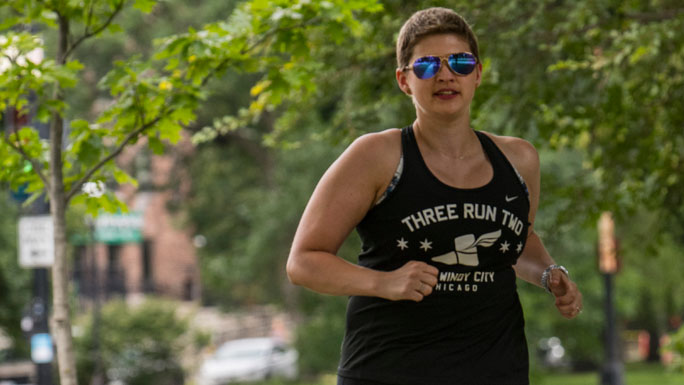 "Physically, I look like I'm on the other side of it, but I'm still struggling with things," Fiedler said. "I have good days and bad days. I'm just always wondering if it's going to come back. Every day I think about that. If I drink alcohol is it going to come back? If I eat fried foods is it going to come back? If I don't eat enough greens, is it going to come back?
"This has been the hardest year, but I've also never felt more loved and supported in my entire life."
One source of that support comes from The Breasties, a group of women under 40 years old who have been affected by cancer. Talking with women her age has provided her solace and someone to turn to about any topic, including intimate issues.
In her job, working on fundraisers for the University of Chicago Medicine Comer Children's Hospital, Fiedler regularly meets cancer patients and their families.
"I hear from grateful patients all the time about the amazing care they received at University of Chicago Medicine," she said. "Now I am a grateful patient. I share my story as a ray of hope for others."
Lexi's Team of UChicago Medicine Breast Cancer Physicians
Lexi Fiedler's treatment started with 20 weeks of chemotherapy and targeted therapy to shrink the tumors before surgery. Being young and otherwise healthy, as she is, helps women battle breast cancer, but it also forces them to make life-altering fertility decisions on short notice. Hahn said there is a push now to give young patients a little more time to make family planning decisions before starting chemotherapy. "There's increasing data that we can take the time to consider fertility," Hahn said, noting significant advances in both fertility preservation and cancer treatment.
Jean Bao, MD, breast cancer surgeon
Bao performed Fiedler's mastectomy. While Fiedler chose to keep her healthy breast — and will have breast-reduction surgery later to make it more symmetric with the reconstructed breast — a growing number of young women with breast cancer are choosing to have both breasts removed, Bao said. "Many women overestimate the risk of getting a cancer in the healthy breast, but they may still choose to have that breast removed because they don't want to go through this process again. Peace of mind is a very powerful factor in women wanting to remove the other breast," Bao said. The American Society of Breast Surgeons does not recommend removal of the healthy breast for most breast cancer patients. "As long as women understand the pros and cons, they can make the decision for themselves," she said.
David W. Chang, MD, plastic and reconstructive surgeon
Instead of an implant, Fiedler chose to have Deep Inferior Epigastric Artery Perforator (DIEP) flap reconstruction, a complex microsurgery that takes tissue and blood vessels from the abdomen and transplants it into the breast. "It's technically a more demanding surgery, but it's the best option for patients who wish to have a more 'naturally appearing' breast," said Chang, an innovator in breast reconstruction and section chief of plastic and reconstructive surgery at UChicago Medicine.
Stacy Lindau, MD, gynecologist and director of the Program in Integrative Sexual Medicine (PRISM)
Doctors need to do a better job of giving information about fertility preservation and sexual function to female cancer patients, Lindau said. Men with prostate cancer get information about their future urinary, reproductive and sexual functions, but women often don't get much counsel on the effects of cancer treatment. With PRISM and resources like WomanLab.org. Lindau is working to change that. "Women need evidence-based options to make good decisions about their care," Lindau said.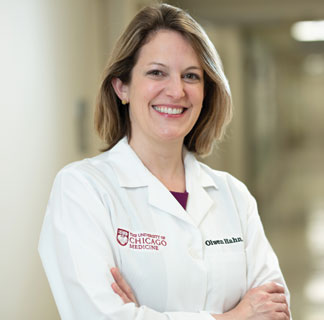 Breast Cancer Care
Our team represents expertise across the spectrum of breast cancer care: breast imaging, breast surgery, medical and radiation oncology, plastic and reconstructive surgery, lymphedema treatment, clinical genetics, pathology and nursing. Our comprehensive care approach optimizes chances of survival and quality of life.
Learn more about UChicago Medicine breast cancer care.