Skip to content
Breast cancer patient excels at work during and after treatment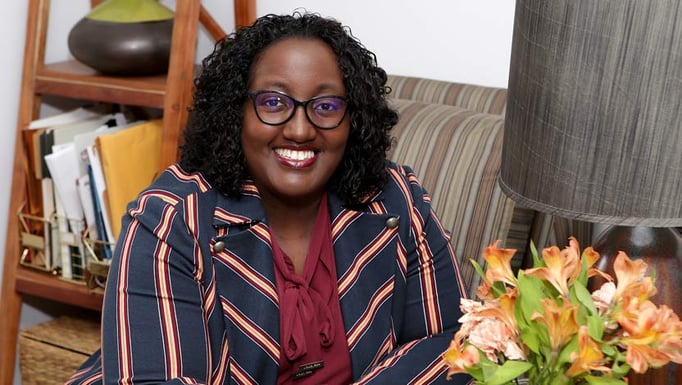 South Suburban resident Felicia R. Horton excelled at work last year while undergoing treatment for cancer in both breasts. As a result of her resounding success at work, she was promoted and continues proactively managing her health with the help of her cancer care team at UChicago Medicine Ingalls Memorial.
In March 2018, Horton noticed leakage from her left nipple and swelling in her right breast. She went to her primary care physician, Rewa Hasanat, MD, who ordered a mammogram and ultrasound on her breasts.
A month later, Hasanat referred her to Ingalls Memorial hematologist and oncologist Kimberly Kruczek, DO, who diagnosed Horton with bilateral HER2 positive breast cancer. The right had inflammatory breast cancer and the left had cancer involving the lymph nodes.
Horton underwent chemotherapy, a double mastectomy performed by surgeon Gary Peplinksi, MD*, physical therapy with a lymphedema specialist, radiation and one year of HER2 targeted treatment.
While losing her hair and fighting other symptoms of chemo and radiation, like exhaustion and nausea, she continued to not only work but excelled at her duties as a marketing enrollment manager for the Office of Catholic Schools for the Archdiocese of Chicago. She was rewarded with a bonus for that work in December 2018.
Working took my mind off of cancer and helped me survive, along with my small support network.
Superintendent of Schools, Jim Rigg, PhD, presented Horton the "St. Peter the Rock Award" at the 2019 National Catholic Educational Association conference for demonstrating outstanding service in her role and personifying the Catholic mission through her attitude and treatment of others. She contributed to a 5% enrollment increase at several schools in her regions in 2018.
In October 2019, Horton continued to do well and was promoted to regional associate director for marketing and enrollment. As leader of the Marketing and Enrollment manager team, she oversees their performance and manages their implementation of system wide strategies at the local school-level of a portfolio of over 200 schools in all six regions.
"Everyone battles cancer differently. I was fairly private about the challenges during my journey and didn't want cancer to be the focal point when I went back to work," Horton said. "You have to learn your own way of mentally coping after having your world turned upside down. Working took my mind off of cancer and helped me survive, along with my small support network."
Horton is now in remission but continues to take medication to prevent breast cancer recurrence. She sees Dr. Kruczek every three months for follow up appointments.
"It warms my heart to see how well Felicia is doing," Kruczek said. Kruczek explained that Horton developed lymphedema in her right arm after radiation treatment, a condition that causes swelling as a result of removal or damage to lymph nodes and is common after cancer treatment. Horton regularly wears a compression sleeve to minimize symptoms.
"My hair is growing back, the color in my nails is coming back… my body is still healing but I feel good," Horton said. "I'm getting back to some type of normalcy, rhythm and routine while adjusting to life with the changes from treatment."
Horton follows a similar health and nutrition regimen as she did during treatment. After consulting her cancer care team, she removed processed foods from her diet and continues to fuel her body with nutrients by eating plenty of fresh vegetables and fruit, drinking vegetable juice and taking vitamin supplements as necessary.
She has also continued line dancing, a hobby she loved long before her cancer diagnosis. During the COVID pandemic she has taken line dancing classes via Zoom and walks outside.
"In hindsight, I wouldn't have changed anything about my treatment at UChicago Medicine Ingalls Memorial. I would have made the same decisions and followed the plans that Dr. Kruczek and Dr. Peplinski made for me," Horton said.
Learn more about cancer care at UChicago Medicine Ingalls Memorial and Family Care Centers in Flossmoor, Tinley Park and Calumet City at uchicagomedicine.org/cancer. In-person and virtual appointments are available now.
*Dr. Peplinski is an independent medical practitioner and is not an employee or agent of Ingalls Memorial Hospital or University of Chicago Medical Center ("UChicago Medicine").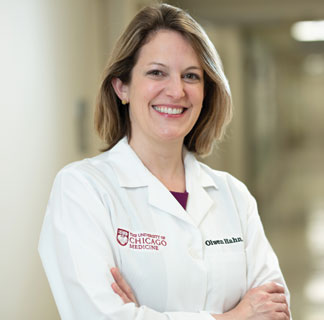 Breast Cancer Care
Our team represents expertise across the spectrum of breast cancer care: breast imaging, breast surgery, medical and radiation oncology, plastic and reconstructive surgery, lymphedema treatment, clinical genetics, pathology and nursing. Our comprehensive care approach optimizes chances of survival and quality of life.
Learn more about UChicago Medicine breast cancer care.