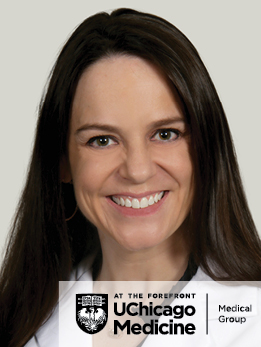 Dr. Kruczek recently completed a three-year hematology/oncology fellowship at Loyola University Medical Center in Maywood, where she served as Chief Fellow in the acclaimed Cardinal Bernardin Cancer Center. She is expertly trained in evaluating and treating patients with all types of cancer.
During her fellowship, Dr. Kruczek lectured extensively, presenting on lung cancer, ovarian cancer, hereditary hemochromatosis, advanced prostate cancer, and urothelial cancer. She is highly regarded by her professors and her peers and earned several awards, including the Resident Research Award at Advocate Lutheran General Hospital in 2013.
Dr. Kruczek graduated from Chicago College of Osteopathic Medicine in Downers Grove and served her internship and residency in internal medicine at Advocate Lutheran General Hospital. She completed her hematology/oncology fellowship at Loyola University Medical Center. She also completed an American Society of Hematology Advocacy Leadership Institute program in Washington, D.C., where she discussed continued NIH funding for medical research, and legislation with house and the senate representatives.
Dr. Kruczek holds memberships in the American Society of Clinical Oncology, American Society of Hematology, American Osteopathic Association and Sigma Sigma Phi, Osteopathic Medicine Honor Society.
She is in practice with Primary Health Oncology, Drs. Mark Kozloff and James Wallace, and will have clinic hours in Flossmoor and Harvey. When she's not seeing patients, Dr. Kruczek enjoys traveling, running, ballet, ballroom dance and hiking.
UCM Medical Group physicians with privileges at the hospital are independent physicians. They are not employees or agents of the University of Chicago Medical Center or Ingalls Memorial.