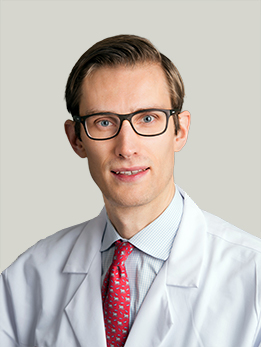 Endocrine Surgery, General Surgery, Surgical Oncology | More
Assistant Professor of Surgery
UChicago Faculty Physicians hold faculty positions with the University of Chicago and provide care for patients on the academic health system's main campus in Hyde Park and in care centers throughout the Chicago region.
Close
773-834-3524
Xavier M. Keutgen, MD, is a surgical oncologist with particular expertise in treating neuroendocrine, thyroid, parathyroid and adrenal tumors. Dr. Keutgen is the director of the University of Chicago Neuroendocrine Tumor Center and works closely with multidisciplinary team that specializes in NETs. He is the co-director of the Von Hippel-Lindau (VHL) clinical care center and a member of the multidisciplinary thyroid cancer team at the University of Chicago.
When surgery is indicated, Dr. Keutgen uses minimally invasive approaches whenever possible. He performs small- or no-scar thyroid and parathyroid surgery as well as laparoscopic or robotic pancreas, liver and adrenal surgery. Dr. Keutgen also specializes in complex liver resections for metastatic neuroendocrine tumors of the gastrointestinal (GI) tract and pancreas. He is one of the few surgeons in the country with advanced expertise in extensive removal of neuroendocrine liver tumors metastases ("debulking surgery") using techniques that preserve a maximal amount of normal liver tissue (parenchymal sparing liver surgery).
Dr. Keutgen has a broad interest in basic science, translational and clinical research of endocrine neoplasms, with a particular focus on neuroendocrine tumors. He is the director of the endocrine surgery research program. His scholarly work has focused on understanding molecular mechanisms that are responsible for endocrine tumor formation as we well as the discovery of novel therapeutic methods to inhibit tumor growth.
Dr. Keutgen is the lead investigator on several clinical trials, which focus on new diagnostic and therapeutic methods for endocrine and neuroendocrine tumors including Peptide Receptor Radionucleotide Therapy (PRRT). His research been published in Clinical Cancer Research, Cancer, Gastroenterology, Annals of Surgery, Surgery, JCEM and Nature Reviews Clinical Oncology amongst others and has been funded by the American Association of Endocrine Surgeons and several NIH sub-awards.