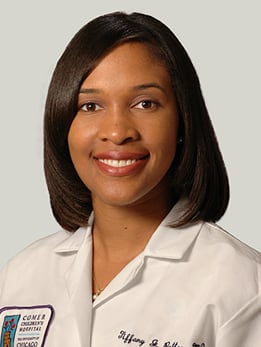 Pediatric Gastroenterology | More
Assistant Professor of Pediatrics
A clinically integrated network of physicians and providers employed by UChicago Medicine who offer care in inpatient, community, ambulatory, acute care or extended care settings.
Close
773-702-6169
Tiffany J. Patton, MD, provides care for children and adolescents with gastrointestinal problems. She has a particular interest in eosinophilic esophagitis, food allergies and intolerances, nutrition, fecal microbiota transplantation and chronic conditions including inflammatory bowel disease (IBD) and celiac disease.
Dr. Patton's research focuses on the process by which bacteria in the gastrointestinal tract respond to stimuli in patients with food allergies versus healthy individuals. She has written several review articles on GI bleeding, vitamin and mineral absorption and deficiency, and Zollinger Ellison syndrome.