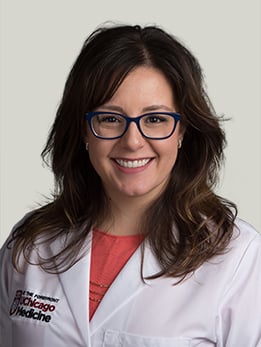 Orthopaedic Surgery, Orthopaedic Oncology | More
Associate Professor of Orthopaedic Surgery and Rehabilitation Medicine
UChicago Faculty Physicians hold faculty positions with the University of Chicago and provide care for patients on the academic health system's main campus in Hyde Park and in care centers throughout the Chicago region.
Close
773-834-3531
As an orthopaedic oncologist, Tessa Balach, MD, provides comprehensive surgical care for
bone and soft tissue tumors
. She treats a broad range of benign and malignant tumors in adults and children. As a member of the medical center's multidisciplinary physician team, Dr. Balach works closely with other experts to provide highly specialized, individualized care for patients with common and rare bone and soft tissue tumors. She also provides surgical care for metastatic bone disease, often stabilizing weak bones to prevent fractures associated with breast, lung, prostate or kidney metastases.
Additionally, Dr. Balach specializes in joint replacement surgery, with particular expertise in
hip
and
knee replacement
.
Also an active researcher, she currently leads and contributes to clinical studies designed to advance the comprehensive treatment and management of bone diseases and injuries. Dr. Balach serves as a mentor and instructor to medical students, residents and fellows. She has also authored several articles in peer-reviewed journals and medical publications, in addition to delivering presentations at numerous professional meetings.