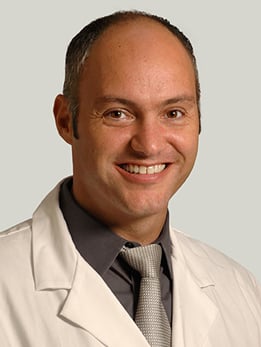 Septimiu Murgu, MD, is a highly skilled interventional pulmonologist. Dr. Murgu has specific expertise in minimally invasive techniques, such as bronchoscopic and pleural procedures, to diagnose and treat patients with central airway disorders. Dr. Murgu's specialty extends to a wide range of central airway disorders, including tracheal stenosis, tracheobronchomalacia, excessive dynamic airway collapse and airway obstruction from cancer. He also performs laser-assisted mechanical dilation of airway strictures, airway stenting and bronchoscopic treatments for benign and malignant airway lesions using photodynamic therapy, cryotherapy and electrosurgery techniques.
With Dr. Murgu's extensive knowledge of airflow dynamics, nomenclature and classification systems of tracheal stenosis, tracheobronchomalacia (the weakening of the trachea and bronchi) and excessive dynamic airway collapse, he has the experience, knowledge and skill to deliver long-term success for his patients.
His clinical and research interests include minimally invasive diagnostic and therapeutic interventions for patients suffering from benign and malignant airway obstruction. In his research, Dr. Murgu is evaluating the safety and outcomes of multimodal bronchoscopic interventions for patients suffering from benign and malignant airway obstruction. He published articles on the role of bronchoscopy for molecular testing, diagnosis of lung nodules, and therapeutic bronchoscopy for central airway disorders. Additionally, he authored a best-selling textbook on bronchoscopy as well as written numerous book chapters and clinical guidelines pertinent to the management of patients with lung cancer.
Dr. Murgu is also actively involved in creating education projects for physicians to enhance their treatment techniques. With this new curriculum, physicians learn by using simulation technology, interactive step-by-step instructions and problem-based teaching which create an engaging and authentic learning environment. His contributions to the field of procedure-related training has been recognized by his peers and professional societies.