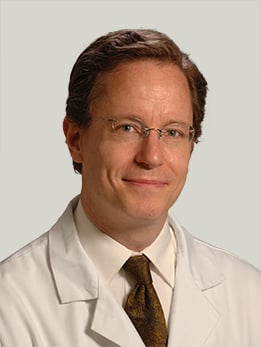 Orthopaedic Surgery, Orthopaedic Oncology, Pediatric Orthopaedic Surgery | More
Simon and Kalt Families Professor in Orthopaedic Surgery and Rehabilitation Medicine
Associate Director, Molecular Oncology Laboratory
UChicago Faculty Physicians hold faculty positions with the University of Chicago and provide care for patients on the academic health system's main campus in Hyde Park and in care centers throughout the Chicago region.
Close
773-702-6149
Rex Haydon, MD, PhD, focuses on the comprehensive treatment of malignant and benign
tumors in bone or soft tissue
. He specializes in the surgical care of bone and soft tissue tumors, including limb-salvage and reconstructive surgery of the upper and lower extremities. Dr. Haydon works with an integrated team of specialists to ensure that patients have access to the most innovative and effective treatment options available.
Also a skilled physician scientist, his research focuses on advancing the treatment of musculoskeletal tumors. Dr. Haydon has a particular interest in the underlying causes of musculoskeletal neoplasms. Author of more than 25 articles and book chapters, he has accepted career development awards from both the Orthopaedic Research and Education Foundation and the National Institutes of Health. Additionally, Dr. Haydon's research has been supported by the Musculoskeletal Tumor Foundation.