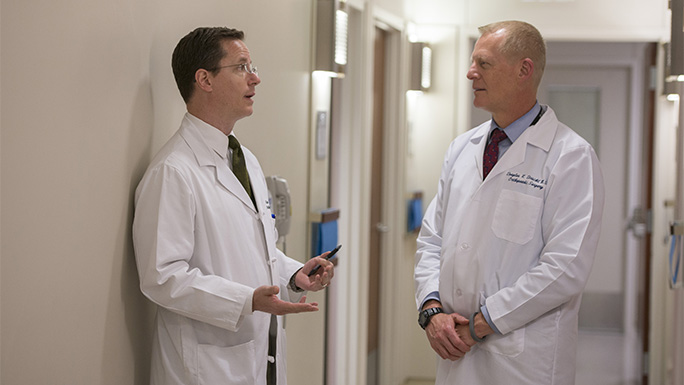 Understanding the Risks & Causes of Bone Infections
The University of Chicago Medicine's Bone Infection Program is setting a new standard of care for patients with osteomyelitis (infection in the bone). Thanks to exceptional experience and skill, orthopaedic surgeons and infectious disease specialists work together to provide unparalleled diagnosis and treatment of osteomyelitis. Our Bone Infection Program brings together experts in these two specialties to provide comprehensive care in a single setting.
Bone infections can become a severe condition if not treated properly. If you have any of the following signs, you should reach out to your doctor right away:
Chronic infections of bone
Infections around or involving orthopaedic implants
Infected fractures
Infections of original (native) and prosthetic joints
Treatment for Bone Infection
In order to give you the best care options for your bone infections, our doctors offer both non-operative and operative solutions, including:
Medication, including infusion therapy
Draining the infected area
Removing diseased bone and tissue (debridement)
Restoration of blood flow to the bone
Removal of foreign objects such as plates or screws from a previous surgery
Limb salvage, limb reconstruction
Bone grafting
Limb lengthening, bone transplant
Amputation
Our team also can coordinate home and outpatient services for follow-up care.
Meet Our Bone Infection Team
Find an Orthopaedic Location Near You
Learn more about orthopaedic care