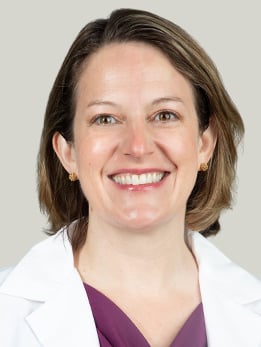 Hematology and Oncology (Cancer) | More
Associate Professor of Medicine
A clinically integrated network of physicians and providers employed by UChicago Medicine who offer care in inpatient, community, ambulatory, acute care or extended care settings.
Close
855-702-8222
Olwen Hahn, MD, specializes in the diagnosis and treatment of
breast cancer.
In addition to her clinical roles, Dr. Hahn serves as the primary investigator on multiple studies that examine the effectiveness of new drugs in breast cancer. She also is a dedicated educator, teaching medical students and post-graduate trainees on a variety of topics, including how to take a medical history and the importance of effective communication between doctors and patients.
Dr. Hahn has authored numerous articles in scientific journals, and has contributed to a leading textbook on molecular targeting in oncology. In 2011, Dr. Hahn was the recipient of the University of Chicago's Distinguished Clinician Award. Dr. Hahn was recently appointed as a Junior Faculty Scholar of the Bucksbaum Institute for Clinical Excellence.