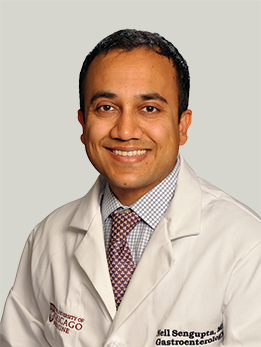 Assistant Professor of Medicine
UChicago Faculty Physicians hold faculty positions with the University of Chicago and provide care for patients on the academic health system's main campus in Hyde Park and in care centers throughout the Chicago region.
Close
773-702-6140
A specialist in gastroenterology, Neil Sengupta, MD, cares for patients with a wide range of digestive diseases. He has a specific interest in esophageal diseases, gastroesophageal reflux disease, peptic ulcer disease, gastrointestinal bleeding, diverticular diseases, colon cancer screening, fatty liver disease and quality initiatives in general gastroenterology.
Dr. Sengupta's research interests are in optimizing the care and outcomes of patients who are hospitalized with gastrointestinal bleeding. Through his research, he has described risk factors for adverse outcomes in patients hospitalized with lower gastrointestinal bleeding, as well as for patients presenting with gastrointestinal bleeding while on anticoagulant medications. He also serves as the sectional quality improvement director, and has active projects focused on improving the quality of colorectal cancer screening.
Dr. Sengupta also is a dedicated educator, teaching medical students, residents and fellows about gastrointestinal pathophysiology and clinical gastroenterology.