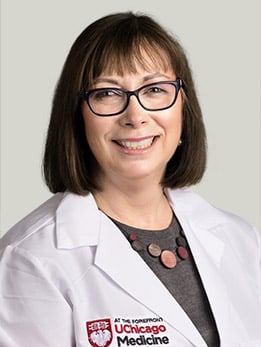 Nephrology (Kidney Disease), Transplant | More
Professor of Medicine
Medical Director, Kidney Transplant
UChicago Faculty Physicians hold faculty positions with the University of Chicago and provide care for patients on the academic health system's main campus in Hyde Park and in care centers throughout the Chicago region.
Close
773-702-6134
Michelle Josephson, MD, provides highly skilled medical care to renal transplant recipients and potential donors during pre-transplant evaluation and post-surgical treatment. She is a nationally renowned expert on BK-virus nephropathy--an illness that can cause dysfunction in a transplanted organ. Dr. Josephson is also recognized for her work on pregnancy in kidney transplant recipients. Additionally, she specializes in the management of hypertension, bone disease and hyperlipidemia in kidney transplant patients.
An active educator and researcher, Dr. Josephson focuses on complications in transplant patients, including infection, bone disorders and gender-specific concerns. She is also interested in ethical issues related to transplantation, such as paired kidney exchanges and the safety of kidney transplantation in HIV-positive patients.