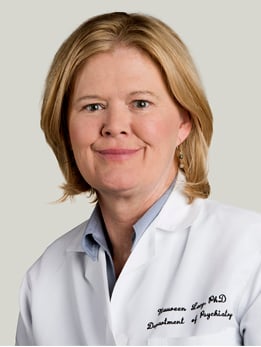 Associate Professor of Psychiatry
UChicago Faculty Physicians hold faculty positions with the University of Chicago and provide care for patients on the academic health system's main campus in Hyde Park and in care centers throughout the Chicago region.
Close
773-702-3858
Maureen Lacy, PhD, is interested in the assessment of memory, language, reasoning, spatial and attention problems related to medical, neurologic and psychiatric conditions, including but limited to:
Brain tumors and treatment effects (chemotherapy and radiation)
Epilepsy (partial complex; pre/post surgical interventions)
Traumatic head injury and concussion
Autoimmune conditions (lupus and MS)
Cardiac disease
Movement disorders (Parkinson's disease)
Dr. Lacy is also interested in the neuropsychological detection and characterization of neurodegenerative conditions (dementias), such as:
Alzheimer's disease
Depression (pseudodementia)
Vascular disease (stroke, ischemic disease)
Lewy body disease
Frontotemporal dementias
Normal pressure hydrocephalus
She is part of the several specialty clinical service teams that provide comprehensive neuropsychological assessment. Examples of these teams include:
In addition to her clinical practice, Dr. Lacy is engaged in multiple ongoing research projects, in which she studies the cognitive, behavioral and clinical aspects of Hydrocephalus across the lifetime. Dr. Lacy also enjoys teaching and is co-director of the Clinical Neuropsychology Externship training program, educating future neuropsychologists from local and national universities. She is also engaged in lectures and rotations of medical students, and supervises undergraduate students engaged in research.