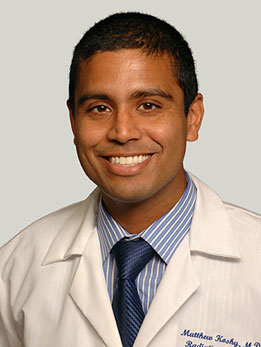 Associate Professor of Radiation and Cellular Oncology
A clinically integrated network of physicians and providers employed by UChicago Medicine who offer care in inpatient, community, ambulatory, acute care or extended care settings.
Close
855-702-8222
Matthew Koshy, MD, is an expert in radiation therapy of brain and lung malignancies. His clinical interests center around the use of highly targeted treatments for the most effective minimally invasive therapy.
In addition to his clinical practice, he maintains a strong interest in clinical research and is a co-investigator on studies designed to improve radiation therapies for the treatment of brain tumors. His research has been funded by the
National Institutes of Health (NIH)
.
A well-respected leader in his field, Dr. Koshy has delivered presentations at national and international conferences and has published more than 30 abstracts and scientific articles in peer-reviewed journals. In addition, Dr. Koshy educates medical students and residents and in 2011, he was named Teacher of the Year for the
Department of Radiation and Cellular Oncology
.