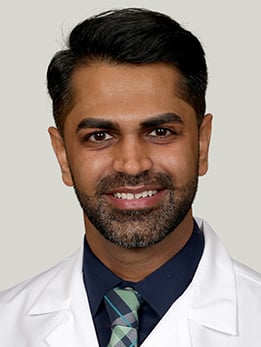 Surgery, General Surgery | More
Clinical Associate of Surgery
UChicago Faculty Physicians hold faculty positions with the University of Chicago and provide care for patients on the academic health system's main campus in Hyde Park and in care centers throughout the Chicago region.
Close
855-826-3878
Krunal Pardiwala, MD, is an expert
general surgeon
who delivers unwavering comprehensive, compassionate care to each patient. Dr. Pardiwala specializes in gastrointestinal surgery,
colon and rectal surgery,
skin and soft tissue surgery, and
breast surgery
. His extensive clinical training allows Dr. Pardiwala to perform the most advanced surgical procedures, including
minimally invasive techniques
.
In addition to his clinical practice, Dr. Pardiwala also uses research to improve care and quality of life for his patients. His research has included investigating treatment options for colorectal cancer and evaluating immunotherapy options. Dr. Pardiwala's work has been published in respected, peer-reviewed journals, such as
Cell Death and Disease
,
Journal of Clinical & Cellular Immunology
and
Surgery
.
UChicago Faculty Physicians who provide services at UChicago Medicine Ingalls Memorial are not employees or agents of UChicago Medicine Ingalls Memorial.