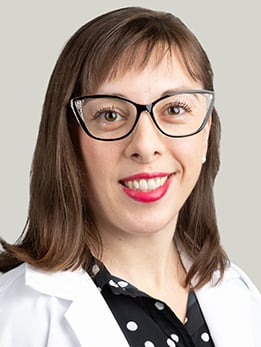 Pediatric Rheumatology, Rheumatology | More
Assistant Professor of Internal Medicine and Pediatrics
UChicago Faculty Physicians hold faculty positions with the University of Chicago and provide care for patients on the academic health system's main campus in Hyde Park and in care centers throughout the Chicago region.
Close
773-702-6119
Cuoghi Edens, MD is a rheumatologist trained to see both pediatric rheumatology and adult rheumatology patients. Dr. Edens treats patients suffering from systemic lupus erythematosus, mixed connective tissue disease, juvenile idiopathic arthritis, psoriatic arthritis, vasculitis, dermatomyositis and other more rare conditions. Due to her combined adult and pediatric training, she has a special interest in rheumatic diseases in children and ensuring their healthcare as they transition into adulthood. She is also interested in the interplay between reproductive health, pregnancy and rheumatic diseases and is currently conducting research in this area.
Aside from her clinical work, Dr. Edens is also the pediatric rheumatology fellowship director and involved in medical student and resident education.
Adult rheumatology patients can contact 773-702-6119.
UChicago Faculty Physicians who provide services at UChicago Medicine Ingalls Memorial are not employees or agents of UChicago Medicine Ingalls Memorial.