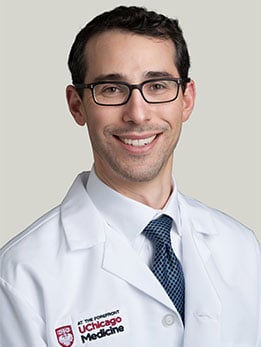 Andrew Beaser, MD, specializes in cardiac electrophysiology, which is the diagnosis and management of heart rhythm disorders (arrhythmias). Dr. Beaser treats a wide range of arrhythmias and performs catheter ablation for basic and complex conditions, such as atrial fibrillation, supraventricular tachycardia and ventricular tachycardia. He also specializes in device management for patients who need pacemakers and defibrillators to regulate their heart rhythm.
In addition to his dedicated patient care, Dr. Beaser's current research includes evaluating safer and more successful lead extraction procedures and finding innovative uses for radiofrequency ablation techniques for non-arrhythmic cardiac disease. Dr. Beaser is also investigating risk factors for sudden cardiac death to understand the mechanisms underlying arrhythmia and improve outcomes.
UChicago Faculty Physicians who provide services at UChicago Medicine Ingalls Memorial are not employees or agents of UChicago Medicine Ingalls Memorial.