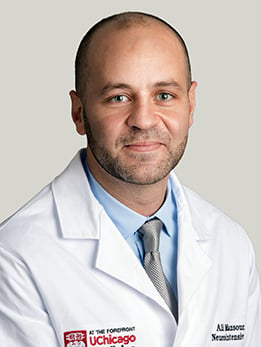 Neurology, Neurocritical Care | More
Assistant Professor of Neurology
A clinically integrated network of physicians and providers employed by UChicago Medicine who offer care in inpatient, community, ambulatory, acute care or extended care settings.
Close
773-702-6222
Ali Mansour, MD, is a highly skilled neurologist specializing in neurocritical care, excelling at quickly diagnosing and treating life-threatening brain conditions. Dr. Mansour delivers comprehensive care to patients with traumatic brain injury (blunt and penetrating), ischemic (low blood flow) and hemorrhagic (blood vessel rupture) stroke, brain aneurysms and vascular malformations, cerebral edema, status epilepticus and neuroprognostication following cardiac arrest.
As a physician-scientist, Dr. Mansour uses research to improve care for patients with neurological disorders. His work has been published in several widely respected, peer-reviewed journals, including Neurocritical Care, Journal of Stroke and Cerebrovascular Diseases, Nature Scientific Reports, PLoS One and Brain.
Currently, Dr. Mansour's research emphasizes the management and prognosis following penetrating brain injury (gunshot wounds to the head). He is also evaluating the role of neuroimaging in prognosis following neurocritical illness and cardiac arrest. Dr. Mansour is also interested in neuroinformatics; he and a multidisciplinary team of experts aim to optimize data capture and analysis in neurological and neurocritical illness to improve patient outcomes.