The University of Chicago Medicine liver cancer treatment team includes experts from a range of specialties, including hepatology, transplant surgery, radiology, pathology, and medical, surgical and radiation oncology.
Program Leadership
Surgical Director, Liver Tumor Program
Medical Director, Liver Tumor Program
Meet Our Liver Cancer Team
Skilled Surgeon Transplants Man's Own Liver Back into His Body During Innovative Cancer Removal Procedure
Richard Vanderslice's primary liver tumor was in a hard-to-reach location near and involving several blood vessels — making tumor removal surgery risky and its success uncertain. UChicago Medicine surgeon John Fung, MD, PhD, took a creative approach to the surgery. Fung proposed a treatment method that involved removing Vanderslice's liver and then cutting out the cancer while the organ is on a table in the operating room. After that, the liver was transplanted back into Vanderslice's body. "Within five minutes of meeting him and talking with him [Dr. Fung], I knew he was my surgeon. I could put my complete and utter trust and faith in him," Vanderslice said.
Convenient Locations for Cancer Care
Get a Second Opinion
Participate in a Clinical Trial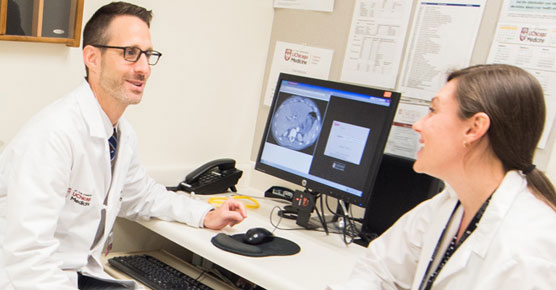 Liver Disease Diagnosis & Treatment