Developmental Research Program
Co-Leaders: Kirsten Moysich, PhD, MS; Richard Koya, MD, PhD
The Developmental Research Program (DRP) of the Roswell Park-University of Chicago Ovarian Cancer SPORE is a platform to support innovative, potentially high-risk/high-reward ideas with the potential to mature further into translational ovarian cancer research projects that will transition basic and/or population research findings into research focused on patients or human specimens. DRP funding encourages the development of the pilot projects into collaborative, multi-investigator, multi-institutional translational research programs, or as new Individual Research Projects. DRP projects are the ultimate measure of the success of a SPORE, forming the basis for future translational ovarian cancer research and providing springboards for the next generation of R01, P01, Consortium, and SPORE grants.
The goals of the proposal review process are not only to identify the most exciting projects, but to provide constructive critiques that are of value both for future submission of the projects to extramural funding sources, and for identifying potential collaborators and resources within the Roswell Park-University of Chicago Ovarian Cancer SPORE to increase the competitiveness of future applications. The DRP's strength lies in its ability to respond rapidly to new initiatives and provide significant, timely financial support to high-risk/pilot projects.
Career Development Program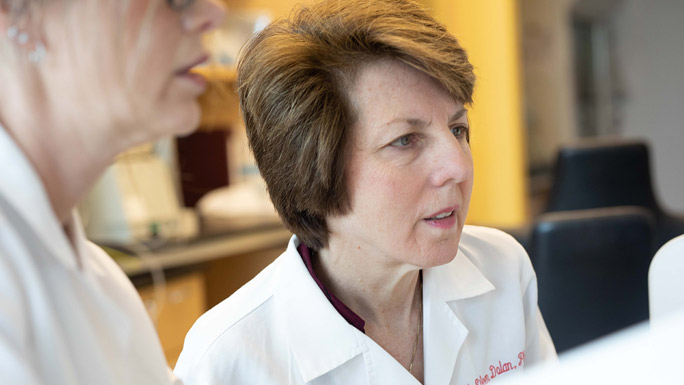 Co-Leaders: Kirsten Moysich, PhD, MS; Scott Abrams, PhD; Eileen Dolan, PhD
The purpose of the Career Enhancement Program (CEP) of the Roswell Park-University of Chicago Ovarian Cancer SPORE is to support the career development of junior researchers in translational ovarian cancer research. The target population for the program is outstanding entry-level (i.e. Assistant Professor) scientific and clinical faculty, but in some cases may include senior postdoctoral or clinical fellows with exceptional potential for independent research careers. A secondary goal of the CEP is to promote the diversity of ovarian cancer researchers, by encouraging the recruitment of outstanding women, underrepresented minorities and individuals with disabilities. The CEP will be supported by both SPORE funds and matching institutional funds from Roswell Park, the University of Chicago, and the University of Rochester.
The CEP serves as a structured mechanism for identifying outstanding candidates through an open and competitive application and review process and matching the resulting awardees with experienced mentors. CEP awardees are afforded full access to the Roswell Park-University of Chicago Ovarian Cancer SPORE Core resources, including tissue specimens and statistical support. The CEP provides a vital mechanism for the development of the next generation of translational ovarian cancer researchers.