Skip to content
UChicago trauma and violence recovery teams work together to heal patients and families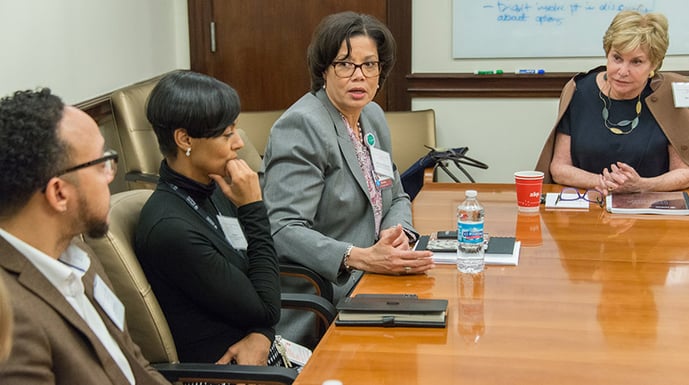 Medical Center Trustee Ellie Block (right), who established the BHC Collaborative for Family Resilience at UChicago Medicine, meets with Brenda Battle (center), vice president of the Urban Health Initiative at UChicago Medicine, community partners, and staff to discuss ways to integrate and align trauma care services for children and families.
Late into the night, a young boy who had been shot was transported to the University of Chicago Medicine Comer Children's Hospital in critical condition.
UChicago Medicine's trauma team immediately provided expert medical care to the boy, while UChicago Medicine's Violence Recovery Program (VRP) swiftly swung into action, offering emotional and psychological support to his family members, including other children who were with him at the time of the shooting, and those who gathered at the hospital.
Young family members received support from Comer Children's child life specialists, who helped to reduce anxiety and normalize their emotions. These nationally certified specialists are available 24/7 in both Comer Children's and the adult emergency rooms. Meanwhile, a chaplain comforted the boy's adult family members, attending to their emotional and spiritual needs.
Healing Hurt People-Chicago also stepped in, providing trauma-informed care and psychoeducation, and introducing the family to a trauma intervention specialist, a master's level social worker who helps patients and family members process and understand both the current trauma they are facing and past trauma.
Nearly 90 percent of individuals seen by Healing Hurt People-Chicago have lost a family member or close friend to homicide.
"Many of the patients we see have gone through a lot of trauma, so it's important to remember that the most recent injury may not be their first traumatic experience," said Brad Stolbach, PhD, associate professor of pediatrics. "Our violence recovery and trauma teams take into account the context and complexity of our patients' lives—both how much they've had to deal with, as well as how incredibly strong and resourceful they are in the face of very difficult circumstances."
Addressing the epidemic of violence
As of December 2, more than 2,500 people have been shot in Chicago in 2019, with the majority of shootings occurring on the city's South and West sides. This reflects a broader national trend of violence, in which intentional gun violence killed more than 14,000 Americans in 2017, according to data from the Centers for Disease Control and Prevention.
As one of the busiest trauma centers in Chicagoland, UChicago Medicine treated about 3,400 trauma patients during its first year of operations—40 percent of which were cases of violence, far exceeding the national average of 15 to 20 percent.
Established in concert with UChicago Medicine's Level 1 adult trauma center, the Violence Recovery Program works to address the epidemic of violence by providing crucial services to adults, children, family members, and friends affected by violent trauma—including specialized interventions for trauma and violence, as well as health care navigation and assistance.
"As the most comprehensive hospital-based violence recovery program in the country, the Violence Recovery Program at UChicago Medicine not only offers a broad range of services in the hospital, but also links patients and families to community-based organizations to help them work toward a full recovery," said Brenda Battle, RN, BSN, MBA, vice president of the Urban Health Initiative at the University of Chicago Medicine.
The VRP offers referrals to more than 60 community-based social and behavioral health agencies to ensure holistic recovery, and reduce the risk for re-injury and recidivism.
This program is changing lives—from reducing violence, to building resiliency, to extending the lives of many people in our communities.
Today, thanks to the care provided by UChicago Medicine's trauma and violence recovery teams, the young boy has recovered. Alert and oriented, he is now talking and playing with his family members.
But UChicago Medicine's Violence Recovery Program recognizes that, while the boy's physical wounds may have healed, he and his family still face psychological and social challenges. That is why patients and families are offered trauma-focused psychotherapy tailored to pediatric patients' different developmental stages.
Trauma and violence recovery specialists also work with patients and families to identify both their immediate needs and goals for the future. They continue to meet with patients and families on an ongoing basis, serving as advocates and helping them navigate and engage the health care and social service landscape. Specialists also offer families access to a range of resources—from employment assistance to mental health care services to help with completing school and more. This highly coordinated, client-centered approach ensures individuals' complex needs are met in the long-term.
Holistic approach to foster safer communities
In its first year, the Violence Recovery Program engaged nearly 1,300 patients, family members, and friends. However, continued progress requires the support of philanthropic partners.
Already, local foundations and individual philanthropists have stepped in to help expand the VRP. In April 2019, a $9.1 million gift from the Ellen & Ronald Block Family Foundation and the Hassenfeld Family Foundation established the Block Hassenfeld Casdin (BHC) Collaborative for Family Resilience, which builds on the holistic approach of the VRP and provides wraparound services to meet the special needs of children and families who experience trauma. Since the launch of the BHC Collaborative, the average number of patients engaged by the VRP has increased by 83 percent—from 64 per month to 117 per month.
However, further funding is needed to build the program's capacity, including hiring additional staff to serve more patients and families, and to provide the full spectrum of ongoing, assertive case management.
This work will inform a robust, interdisciplinary research agenda that draws upon the University of Chicago's strengths in medicine, the social sciences, and public policy to help answer a range of questions, including: Who is most at risk for becoming a victim of violent trauma? What programs and services are needed to prevent recidivism and support positive outcomes? How can we inform and improve interventions and other strategies to prevent violence? And what services are needed to support hospital- and community-based providers?
Answering such questions will not only foster healthier, safer communities here in Chicago, but will allow us to develop and disseminate a comprehensive, evidence-based model that can be replicated nationwide.
"By bringing much-needed services to victims of violence on Chicago's South Side and expanding the capacity of community-based providers, this program, as well as the research it informs, is changing lives—from reducing violence, to building resiliency, to extending the lives of many people in our communities," said Battle.
Trauma and Violence Recovery Articles