Skip to content
Heart surgeon dedicates illustrious career to helping patients no other doctors can save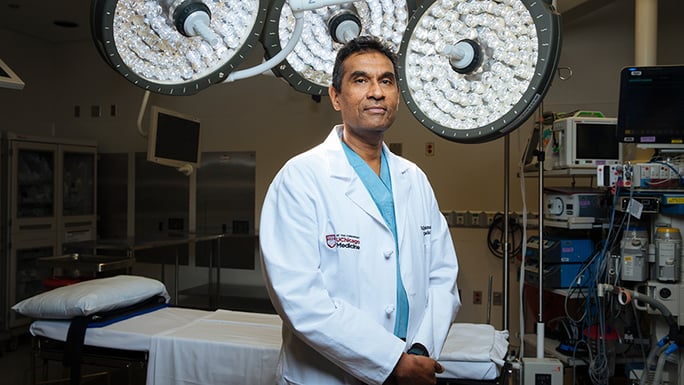 Valluvan Jeevanandam, MD, is a world-renowned heart surgeon.
Valluvan Jeevanandam, MD, was six months into his first job as a heart surgeon nearly three decades ago when a critically ill patient pleaded with him: Get me a heart transplant today, or I am going to die.
Determined to meet the deadline, yet without an organ match for the 220-pound man, Jeevanandam did what would become a signature throughout his storied career: He looked for an unorthodox solution.
Typically, a heart needs to come from a donor who is within 20% of the patient's body size. In this case, that would mean a donor roughly between 180 and 260 pounds. But that's not what was available.
"We found a heart nearby that matched for most requirements but had belonged to an 80-pound child," Jeevanandam said. "So, I asked the cardiologist, 'How fast does a heart grow?'"
He'll never say no unless he's truly maximized all of his options to save someone.
Confident that science and skill were on his side — and with the patient's consent to try — Jeevanandam transplanted the child's heart into the man's body. At first, the small heart raced, unable to keep up with the body's demands and produce enough power to fully circulate blood.
Then, after one week, the care team was able to take the man off a ventilator. After six months, the heart had grown to the normal size found in adults.
At just 32, Jeevanandam had performed the world's first successful adult transplant using an undersized pediatric donor, a procedure not many surgeons would attempt even today. It was the first in a long line of record-setting accomplishments for the cardiac surgeon.
Now the director of the Heart and Vascular Center and Chief of Cardiac Surgery at the University of Chicago Medicine, Jeevanandam, 59, most recently led the surgical teams that performed the world's first back-to-back triple-organ transplants of two 29-year-old patients, both with failing hearts, livers and kidneys. In the 12 months since that historic December 2018 event, the teams performed four more of these multi-organ transplants.
Under Jeevanandam's direction, UChicago Medicine has now performed 10 of these complex transplants since 1999, more than any other institution.
Excellence early on
The innovation and drive Jeevanandam has brought to the operating room for the past 30 years might be in his DNA.
His grandfather, despite being born with no wealth in a class-based society, became the most prominent man in his hometown after building a successful produce business that began with a bicycle delivery route. His father — a PhD who helped establish India's nuclear energy program and contributed greatly to the field of surgical metabolism — was able to attend college only after a teacher paid his application fee, the $10 price tag being too great for the family to spare.
Even in his early years, Jeevanandam was searching for the most efficient, effective solutions to any challenge.
He spent the first decade of his life in Tuticorin on India's southern tip until he, his parents and older sister immigrated to New York City in 1970. At age 15, he was accepted to Columbia University, where he would graduate summa cum laude with a biochemistry degree at 19.
At Columbia's medical school, while other students crammed for hours before tests, Jeevanandam worked smarter. He spent the daily commute from home studying so he would have two hours of preparation before class began. The hard work paid off. He earned the school's top awards in surgery, medicine and physiology during his final year.
An incredibly special human being, who is brilliant, energetic and compassionate.
His mentor at Columbia — where he stayed for his residency and fellowships — was Eric Rose, MD, a giant in the field of cardiothoracic surgery and the first surgeon to perform a successful pediatric heart transplant. Rose described Jeevanandam as being "insatiably curious" and "an incredibly special human being, who is brilliant, energetic and compassionate."
It was perhaps this curiosity that led Jeevanandam to leave New York after 22 years to start a career at Temple University in Philadelphia as the associate director of the heart transplant program. He anticipated working alongside Temple's senior surgeon, but that plan was dashed when, just months after Jeevanandam took the position, the entire heart transplant physician team but him left for another hospital.
Promoted to program director, Jeevanandam took over and thrived, performing 52 heart transplants that year and shattering the hospital's previous record.
Initially, though, the young surgeon had doubts. He called Rose to seek advice on whether to stay.
"Eric said, 'You stay and get the job done.' And that's always been my theme," he recalled. "I want to think outside the box and do something different. Instead of reading about it first and then doing it, I'd rather create it and then write about it for other people to read and learn from."
Helping the helpless
When he was 8, Jeevanandam watched his grandfather collapse from a massive heart attack and die before his eyes. From then on, he became fascinated with how to help others avoid this fate and was drawn to heart transplant because of the intellectual and technical challenge.
He has relentlessly sought innovative ways to save lives. That includes perfecting so-called bloodless cardiac surgeries for patients, such as Jehovah's Witnesses, who will not accept blood transfusions, and conducting pioneering research on mechanical assist devices to provide a bridge to transplant or a long-term solution for patients who may not be transplant candidates.
Colleen LaBuhn, APN, UChicago Medicine's cardiac surgery program coordinator, admires how Jeevanandam never gives up on patients, even when the most sick, complicated or underinsured are sent his way.
"He will fight for patients who have nothing," she said. "He thrives on helping people nobody else can really help."
A heart to give back
Jeevanandam is one of the last pioneers of heart transplant and mechanical assist devices still practicing medicine. And for a man with more accolades, awards, publications and world records to count, one would expect a commensurate ego.
However, the very nature of transplant — the lack of complete control even when a procedure is performed technically perfectly — has driven him to a devout spirituality.
"In my faith, we are told ego is the biggest problem in the world," he said. "If you think it's all you doing it, then that becomes a real barrier. It's not 'I' but the collective 'we' who have been entrusted with a person's life."
Leilani Miles, RN, has worked alongside him in the operating room for all 22 of his years at UChicago Medicine. Make no mistake, she said, Jeevanandam has high expectations of his team members. But he also treats them with the utmost respect, reserving his harshest criticisms for himself. She points to the 10- and 15-year tenures of many colleagues as a testament to the cohesion and loyalty they have, to their patients and to Jeevanandam.
He will fight for patients who have nothing.
"We see a lot of high-risk patients, people no other hospitals will take," she said. "But Val is always calm, and that sets the tone for the entire team. He'll never say no unless he's truly maximized all of his options to save someone."
Jeevanandam also has not forgotten the $10 his father received that changed the trajectory of his family's life. Strong proponents of education as a way to end cyclical poverty, Jeevanandam and his family created a fund to support children in India who have dreams of attending college but no resources to get them there. Currently, they support nine students per year, and he's looking to expand that. Additionally, he makes annual trips back to Puttaparthi in his home country to perform volunteer surgeries, a commitment he has honored for the past 24 years.
Another milestone in medicine
Jeevanandam will never be satisfied slowing down or resting on his laurels, despite being the world's most experienced heart transplant surgeon nearing the sunset of his career. Each year, he sets a seemingly unattainable goal for himself and his team with every intention they'll reach it.
For 2020 he has set his sights on conquering one of the biggest remaining barriers to transplant: antibody rejection rates.
Some people develop antibodies that will attack donated organs at much higher rates than normal, drastically limiting their pool of available organs and a transplant's chances of success. No reliable method exists for decreasing antibodies. But Jeevanandam's research and extensive experience with multi-organ transplants have shown that the body's most effective way of eliminating these agents is through a liver — which acts like a sponge — that belongs to the same body as the heart.
What if a patient has a failing heart but a healthy liver? Jeevanandam and his team are working to perfect the domino transplant, where the patient with a failing heart would receive both a new heart and a new liver and would donate the healthy liver to a different person with a failing one.
They aren't there yet, with both political and technical obstacles to overcome, but their success could mean a lifesaving breakthrough for those who previously had no hope.
It also could be the capstone to an already-impressive career. But Jeevanandam doesn't think like that. He sees himself and those around him as vessels for a higher power to do good work on Earth.
"Every day, I do as much as I can, but, ultimately, the pressure is off," he said. "If the cosmos wants it to happen, it will."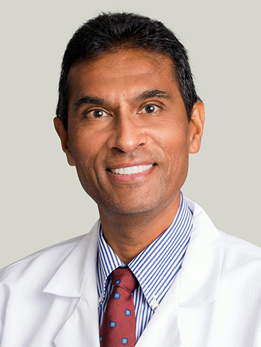 Valluvan Jeevanandam, MD
Dr. Valluvan Jeevanandam specializes in the surgical management of heart failure, and is an expert in high-risk cardiac surgery. He has performed more than 1,000 heart transplants — including the total artificial heart — and countless cardiac surgery procedures.
Learn more about Dr. Jeevanandam
Read more from Dr. Valluvan Jeevanandam