Skip to content
UChicago Medicine receives recognition for resuscitation and stroke care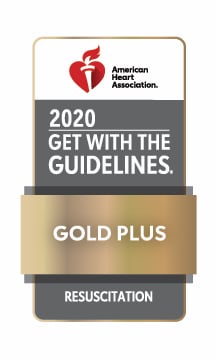 The American Heart Association has recognized Comer Children's Hospital with its top honor for resuscitation care of newborns and children, and University of Chicago Medicine with its top honor for stroke care.
Comer received the association's Get With The Guidelines-Resuscitation Gold Plus Award for both the neonatal and pediatric populations, while UChicago Medicine received the American Heart Association/American Stroke Association's Get With The Guidelines-Stroke Gold Plus Quality Achievement Award.
Comer received the silver award last year, the highest achievable in the first year and reached gold this year after continued excellence in the quality improvement measures outlined by the American Heart Association for the treatment of babies and children who suffer cardiac arrests.
"The award reflects an institutional commitment to achieving high-quality resuscitation performance for every patient, every single time," said Priti Jani, MD, MPH, a specialist in pediatric critical care medicine. "It's about a culture and a mindset of continuous improvement and fierce dedication to providing the best care for our patients."
More than 200,000 adults and children have an in-hospital cardiac arrest each year, according to the American Heart Association. The Get With The Guidelines-Resuscitation program was developed with the goal of saving the lives of those who experience in-hospital cardiac arrests through consistently following the most up-to-date research-based guidelines for treatment.
Comer received the award for its meticulous tracking of resuscitation events, its work to prevent cardiac arrests outside the ICU, and its commitment to continuously reviewing and improving its processes and practices. Jani credits the hospital's CPR committee, nurse educators, ICU pharmacist, and leadership – including John Cunningham, MD, Physician-in-Chief at Comer Children's, and Allison Bartlett, MD, MS, quality chief for pediatrics – for ensuring that proper resuscitation pathways and processes are in place for every patient.
University of Chicago Medicine received the stroke award for its commitment to ensuring stroke patients receive the most appropriate treatment according to nationally recognized guidelines based on the latest scientific evidence. Measures include evaluation of the proper use of medications and other stroke treatments aligned with the most up-to-date, evidence-based guidelines with the goal of speeding recovery and reducing death and disability for stroke patients.
"We are incredibly proud and honored to be recognized again for our collective efforts to deliver high-quality stroke care to our community," said Shyam Prabhakaran, MD, MS, chair of the Department of Neurology at UChicago Medicine. "It would not have been possible without the hard work of all of our providers and team members. As the field of stroke care continues to evolve and improve, we remain dedicated to staying ahead of the curve and providing the most advanced treatments for all of our patients."
According to the American Heart Association/American Stroke Association, stroke is the No. 5 cause of death and a leading cause of adult disability in the United States. On average, someone in the U.S. suffers a stroke every 40 seconds, and nearly 795,000 people suffer a new or recurrent stroke each year.
In addition to the gold awards, the hospital also was named to the association's Target Stroke Honor Roll Elite and the Type 2 Diabetes Honor Roll. It also received the silver award for Mission: Lifeline, which recognizes care for patients with acute, high-risk and time-sensitive disease states that threaten either the patient's life or quality of life.
"We commend UChicago Medicine for these awards in recognition for following evidence-based guidelines for timely heart attack treatment," said Lisa Hinton, American Heart Association Chicago Executive Director. "We applaud the significant institutional commitment to their critical role in the system of care for quickly and appropriately treating heart attack patients. We are also pleased to recognize UChicago Medicine for their commitment to stroke care. Research has shown that hospitals adhering to clinical measures through the Get With The Guidelines quality improvement initiative can often see fewer readmissions and lower mortality rates. Shortening the time to effective resuscitation and maximizing post-resuscitation care is critical to patient survival."
Pediatric Critical Care
Pediatric critical care specialists at the University of Chicago Medicine Comer Children's Hospital are dedicated to managing the unique needs of critically ill children and their families, offering round-the-clock care to speed your child's recovery, minimize pain and offer support and encouragement.
Learn more about our services
News from UChicago Medicine