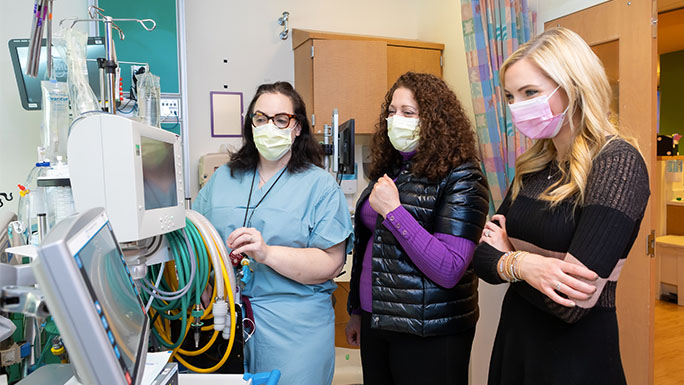 Pediatric critical care specialists at the University of Chicago Medicine Comer Children's Hospital are dedicated to managing the unique needs of critically ill children and their families. We understand that when your child is seriously ill, you want the best medical team available — around the clock — to speed your child's recovery, minimize pain and offer support and encouragement.
At Comer Children's, experts in pediatric critical care work closely with medical and surgical specialists in cardiology, hematology/oncology, urology, gastroenterology, infectious disease, endocrinology, orthopaedic surgery and other subspecialties. This depth of experience means your child receives care from doctors who understand the needs of critically ill children and have a thorough understanding of your child's disease or injury, as well as the best treatment option. This also helps ensure your child's stable transfer and integration between units, such as from the operating room to the Pediatric Intensive Care Unit (PICU), or from the PICU to other pediatric units.

At University of Chicago Medicine Comer Children's Hospital, we're committed to providing heart care that aligns with the latest research-based treatment guidelines. We're proud to be recognized by the American Heart Association® for our achievement of a Resuscitation Gold Award for Pediatrics in the Get With The Guidelines® quality program.
Our experts provide multidisciplinary, patient-centered pediatric critical care services for a broad range of complex conditions. Some of the more common conditions we treat include:
In addition to providing exceptional and compassionate care every day, our team is dedicated to training the pediatric critical care experts of tomorrow.
Learn more about our Pediatric Critical Care Fellowship Program.
Refer a Patient
To reach pediatric critical care faculty or staff, please call us at 773-702-3020.
Pediatric Articles & News