Skip to content
UChicago Medicine expands primary care services at its $25 million River East outpatient center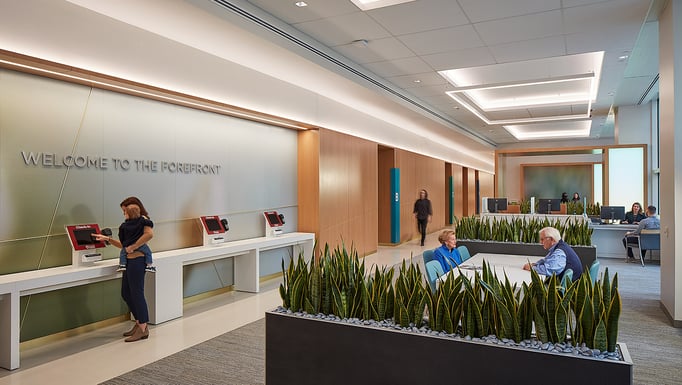 In response to increased demand, the University of Chicago Medicine has expanded its primary care services at its River East location by building dedicated space on the street level and adding physicians, staff and other services.
The 6,000-square-foot area, which opened to patients on March 31, 2021, is the latest upgrade to the UChicago Medicine's newest location at 355 E. Grand Ave.
UChicago Medicine, based in the Hyde Park neighborhood on Chicago's South Side, first opened its River East facility on Feb. 24, 2020, providing its leading-edge care to people who live and work downtown. The outpatient center offers nearly two dozen different primary and specialty-care services, from cardiology to sleep medicine.
In its first year, UChicago Medicine River East saw more than 26,000 patients in-person or virtually, and that number is expected to grow by the thousands in 2021.
While most of River East's patients live downtown, many also come from Northwest Indiana and the suburbs north of Chicago.
"This speaks highly of the reputation of UChicago Medicine and the care we provide," said Medical Center President Thomas Jackiewicz. "Patients are benefitting from the 12 new exam rooms that were added to the 35 exam and procedure room we already had."
UChicago Medicine also will be adding four new primary-care providers to the eight currently at the River East facility.
High-quality outpatient care is offered in more than a dozen specialty areas, including cardiology, dermatology, endocrinology, family medicine, GI (gastroenterology), gynecology, infectious diseases, internal medicine, non-chemotherapy infusion, nephrology (kidney care), obstetrics/gynecology, plastic surgery/cosmetics, rheumatology, psychotherapy, sleep medicine, pulmonology, weight management and urology.
Expansion plans include the addition of functional medicine and integrative medicine.
Doctors can perform a number of outpatient tests at UChicago Medicine River East, such as cardiac stress tests and advanced laser treatments. There are also enhanced treatments for inflammatory bowel disease (IBD), comprehensive weight management, and a voice center with state-of-the-art treatment for voice and airway disorders.
Architects and hospital planners transformed the River East site from a gym into a bright, modern, art-filled care center. Features include large exam rooms with sliding wooden doors, a contemporary waiting area with floor-to-ceiling windows, and the latest medical equipment.
The center also is equipped with modern technology to make visits more convenient for patients. User-friendly kiosks are available for check-in and payments. The waiting area has work desks with charging outlets. Mobile check-in is offered on the MyChart app, and push notifications can be sent if earlier appointments open up. Tests and doctor visits can be streamlined to save patients' time.
The waiting area in the new street-level primary care area has a large screen informational display, ample charging stations, and a water and coffee bar which will be opened when COVID-19 protocols allow it to function safely.
The construction of UChicago Medicine River East incorporated many environmentally friendly features, including the use of recycled raw materials and lights that adjust based on natural lighting in the space. Between the two phases, the project cost $25 million, with a total economic benefit to certified minority- and woman-owned firms of more than $8.7 million.
"We are proud to contribute to the local economy," said Kenneth S. Polonsky, MD, Dean and Executive Vice President for Medical Affairs at the University of Chicago. "We will continue to support minority- and woman-owned businesses in future projects as we look to expand the geographic footprint of our academic health system."
The academic health system consolidated its two Streeterville locations — at 150 E. Huron St. and 680 N. Lake Shore Drive — into the new 40,000-square-foot site. The location doubles the space of the previous clinics combined, and dramatically increases UChicago Medicine's presence in the popular downtown neighborhood.
The Illinois Health Facilities and Services Review Board approved the project in November 2018.
Patient Care Articles & News