Skip to content
Minimally invasive heart procedure restores young woman's quality of life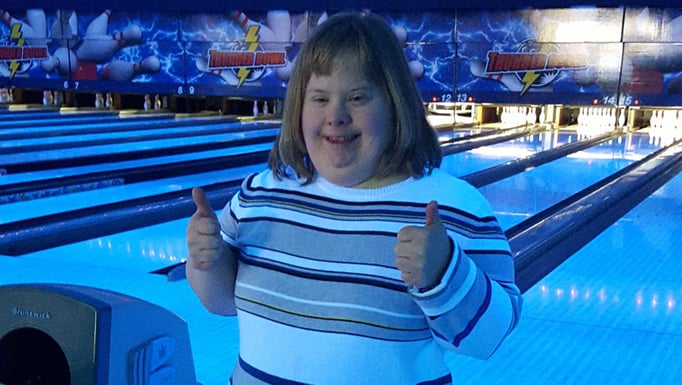 Born with a complex heart defect, Kristin Girdick had a series of successful surgeries as a child. But by the time she reached her mid-30s, the right pumping chamber in her heart, or right ventricle, was starting to fail.
This made it hard for her to breathe, sapped her energy and caused her legs to swell. As soon as she got in a car, she would fall asleep. On a family trip to the San Diego Zoo, she tired so easily she had to use a wheelchair.
Girdick and her parents wanted to avoid another open-heart procedure with its lengthy recovery. UChicago Medicine adult and pediatric interventional cardiologists joined forces to offer a novel, minimally invasive procedure to repair her leaky pulmonary valve. (A leaky pulmonary valve can cause blood to leak back into the heart, forcing the right ventricle to work harder.)
"We were in an out of the hospital and she was as calm as she could be," said Kristin's mother, Joan Malone. "This was a blessing because it gives her some quality of life."
There's been a big question nationwide, what do we do with this brand new population of patients? Who takes care of them?
Girdick, 35, who has Down syndrome, is back to doing the things she enjoys — working at a popular suburban restaurant, playing with her godchildren and cheering for her beloved White Sox and the Chicago Bears.
A new type of patient being treated by a new field of medicine, Girdick was born with Tetralogy of Fallot, a combination of four heart defects that affects blood flow. In the past, many babies with such serious heart defects did not survive past childhood. Thanks to medical advances, these young patients are living well into adulthood, but often develop complex health challenges that require care by both adult and pediatric specialists.
"There's been a big question nationwide, what do we do with this brand new population of patients? Who takes care of them?," said Daniel Gruenstein, MD, chief of pediatric cardiology at the University of Chicago Medicine Comer Children's Hospital. "We could continue to take care of them in pediatrics, but we don't understand every aspect of their adult problems. She could be taken care of entirely by adult cardiologists, but they don't have the same experience with congenital heart issues."
That's why Gruenstein teamed up with Atman Shah, MD, clinical director of cardiology at UChicago Medicine. Together, they used Gruenstein's pediatric techniques and Shah's adult catheterization laboratory and training to work together to replace Kristin's failing heart valve.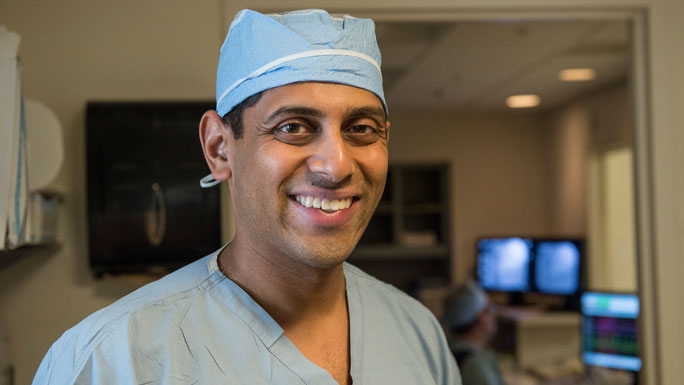 "It was a really novel procedure because we took an aortic valve used in transcatheter aortic valve replacement (TAVR) and put it in Kristin's pulmonic valve to take care of her pulmonic stenosis and regurgitation," Shah said.
Girdick was up and walking in a few hours and back at home in New Lenox the next day. "Her right ventricle is now recovering quite nicely," Shah said.
The transcatheter procedure illustrates the importance of an interventional cardiology program that cares for both adults and children. "It's bringing both of our strengths to help a patient," Shah said.
Structural Heart Disease
The University of Chicago Medicine is a leader in treating a wide range of complex heart conditions. Our physicians have pioneered innovative, minimally invasive techniques for a variety of structural heart and valve disorders.
Read about our Structural Heart Services
Heart and Vascular Center
From advanced diagnostic technology to minimally invasive treatments and robotic surgery, the University of Chicago Medicine can provide the full scope of care for any type of heart or vascular disorder in adults and children.
Explore our Heart and Vascular Center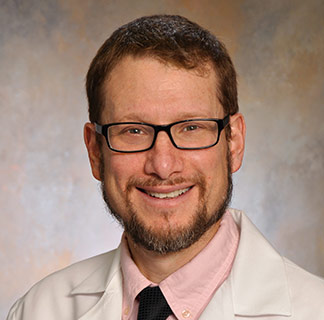 Daniel Gruenstein, MD
Daniel H. Gruenstein, MD, cares for infants, children, teens and adults with congenital heart disease – abnormalities that affect the structure and function of a patient's heart.
Learn more about Dr. Gruenstein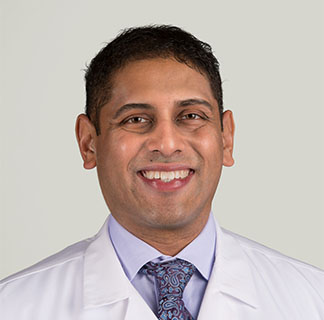 Atman P. Shah, MD
Atman P. Shah, MD, is an interventional cardiologist who specializes in minimally invasive, catheter-based techniques. He cares for patients with complex structural heart disease, including congenital heart defects, and performs catheter-based procedures to reduce the risk of stroke in patients with atrial fibrillation.
Learn more about Dr. Shah
Learn more about heart and vascular disease