Skip to content
Combination of IBD medications offers bridge to avoid surgery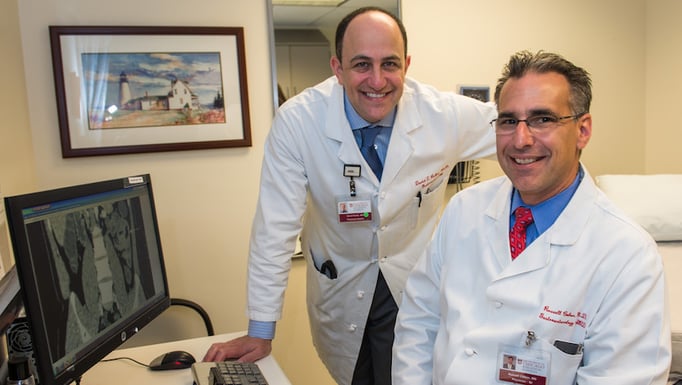 Gastroenterologists commonly define inflammatory bowel disease (IBD) as one of two chronic conditions, Crohn's disease or ulcerative colitis. But since each disorder can have a wide range of symptoms and levels of severity, some doctors believe IBD may be more like 50 to 100 different diseases that overlap with each other.
This can make treatment for these already complex conditions more difficult. Some patients respond to conventional, first line treatments right away. Others do well for a while then stop responding, and still others with more severe symptoms struggle to respond to any medications at all, leaving only surgery to remove damaged parts of the colon as an option.
Physicians and researchers at the University of Chicago Medicine work continuously to solve this puzzle for patients with IBD. A new study shows how a combination of different medications could help patients with the most severe Crohn's and colitis avoid surgery and achieve remission.
David T. Rubin, MD, the Joseph B. Kirsner Professor of Medicine and Section Chief of Gastroenterology, Hepatology and Nutrition at UChicago Medicine, led a team that tracked the use of two different medications that target the immune system and can reduce inflammation in the intestine caused by IBD.
Vedolizumab is a drug based on antibodies that block the movement of white blood cells to the lining of the gut to counter the effects of an overactive immune system. Because it targets only the white blood cells going to the gut (and not other organs) it's also very safe. It's approved for use in patients with moderate to severe IBD, but sometimes it doesn't work well when patients develop what's called a "leaky gut." Severe inflammation can damage the lining of the intestine enough that it allows proteins to pass through and not be absorbed. Since antibodies are a type of protein, the vedolizumab antibodies leak and can't do their job.
Without this treatment strategy they would have been out of medical options. We quite literally saved these patients from surgery.
Cyclosporin and tacrolimus are a different kind of drug called calcineurin inhibitors. They were developed to prevent rejection of transplanted organs because they can suppress the activity of the immune system. Russell Cohen, MD, Director of the Inflammatory Bowel Disease Center at UChicago Medicine and a co-author of the new study, was one of the first to publish a study about the use of cyclosporin for patients with ulcerative colitis in 1999. While effective, it has been known as a "salvage therapy" because it's often a treatment of last resort for patients who don't respond to other medications. Most medical centers don't use it because of potential side effects.
Unlike vedolizumab however, cyclosporin and tacrolimus are not based on protein antibodies. Rubin saw this as an opportunity for treating patients with severely damaged, leaky guts. They could take one of the calcineurin inhibitors long enough to heal the gut, then switch to the safer, protein-based vedolizumab to control their IBD going forward.
"If I could just heal the bowel using a non-protein strategy, I hypothesized that it could serve as a bridge to allow them to take vedolizumab for maintenance," Rubin said. "It was natural for me to think that we could combine them to help patients get better."
UChicago Medicine was one of the first hospitals to begin giving vedolizumab to patients after it was approved by the FDA in 2014. Rubin and his colleagues maintain a research database that tracks treatment and progress of its IBD patients. For the new study they looked back at patients who were treated with both vedolizumab and a calcineurin inhibitor. After a year of that treatment, 60 percent of these patients continued to take vedolizumab and achieved remission, free of symptoms.
"Without this treatment strategy they would have been out of medical options," Rubin said. "We quite literally saved these patients from surgery."
Rubin hopes this study will encourage more physicians to learn to use drugs like cyclosporin in combination with other treatments for IBD.
"This novel strategy started with our knowledge of cyclosporin and experience with vedolizumab," he said. "We believe it offers salvage therapy for people who would otherwise need surgery and does it in a safe effective manner with therapies that are already available."
---
The study, "Effective use of Calcineurin Inhibitors with Vedolizumab in Refractory Inflammatory Bowel Disease," was published May 8, 2018 in the journal Clinical Gastroenterology and Hepatology. Additional authors include Britt Christensen and Peter Gibson from Royal Melbourne Hospital, Australia; and Dejan Micic, Ruben J Colman, Sarah R Goeppinger, Olufemmi Kassim, Andres Yarur and Christopher R Weber from UChicago.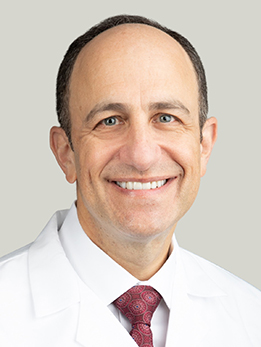 David T. Rubin, MD
Dr. Rubin specializes in the treatment of digestive diseases. His expertise includes inflammatory bowel diseases (Crohn's disease and ulcerative colitis) and high-risk cancer syndromes.
See Dr. Rubin's physician bio
Inflammatory Bowel Disease Center
Our world renowned experts collaborate to bring patients the best possible treatment and the latest research in inflammatory bowel disease (IBD).
Learn more about the IBD center