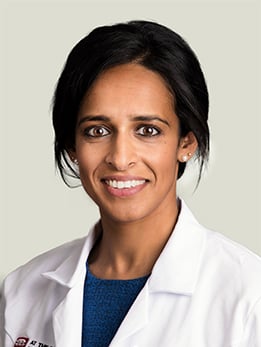 Yalini Vigneswaran, MD, MS, is an advanced minimally invasive gastrointestinal surgeon who specializes in esophageal and gastric disorders, including motility disorders, esophageal and gastroesophageal junction cancers, reflux disease and paraesophageal hernias. She has specific clinical expertise in esophageal surgery, including minimally invasive esophagectomy for both benign and malignant disease. Additionally, Dr. Vigneswaran has expertise in bariatric surgery and performs various weight loss procedures.
Dr. Vigneswaran uses both advanced laparoscopic and robotic-assisted techniques to approach complex gastrointestinal disorders and weight loss surgery. She offers new techniques and procedures and works closely with members of the gastroenterology, nutrition and oncology teams.
Dr. Vigneswaran conducts clinical and translational research and is committed to improving outcomes for patients with gastroesophageal disorders and patients undergoing weight loss surgery. She has been recognized nationally for her research and has received several awards. She continues to advance the field with specific research interests in reflux disease after weight loss surgery and revisional surgery, esophageal cancer treatment and paraesophageal hernia surgery.
Anti-Reflux Surgery: A Patient Success Story
Musician Michael Meadows came to UChicago Medicine to treat his acid reflux. Dr. Yalini Vigneswaran came up with a plan to treat more than just his acid reflux so he could return to the stage.