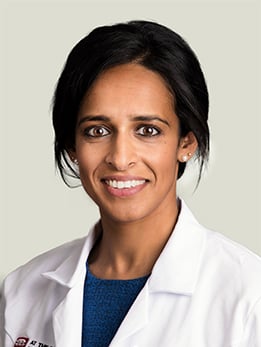 My name is Yalini Vigneswaran, I am one of the minimally invasive GI surgeons here at University of Chicago. I do bariatric surgery as well as any kind of surgery on the esophagus and stomach. My specific interest in surgery revolve around GI surgery specifically talking about the esophagus and the stomach. I treat patients that have reflux and require surgery for bad heartburn that doesn't respond to medications, I take care of patients that have hernias in their chest where the stomach has gone up into the chest. And I also take care of a lot of patients that see me for weight loss.
We have a lot of great different procedures we can do now for patients who require weight loss surgery and patients do quite well with those. There's one thing I find myself telling my patients often. It's that, surgery is not a quick fix, but surgery is something that my patients can use as a tool to help achieve what they need to achieve. And oftentimes when we talk about weight loss surgery. Surgery is a very important tool for many patients on their journey. My philosophy of care is every patient is different.
And so personalized medicine in my case personalized surgery is really a key part to taking care of the patient and doing what's right for the patient. So when you see me in clinic, I want to make that personal connection in terms of what is your priorities, whether it's weight loss, whether it's reflux disease, whether it's a hernia, perhaps we can come up with a plan that addresses the most important parts of your care and what will help you live your best life.
I'm very fortunate to be a surgeon here at University of Chicago where we're surrounded by a great team of doctors. So it's not just me taking care of you, I'm supported by a great cast of physicians. We work in a multidisciplinary fashion, so when you see one of us you're not just seeing one of us you're seeing our entire team.
Yalini Vigneswaran, MD, MS, is an advanced minimally invasive gastrointestinal surgeon who specializes in esophageal and gastric disorders, including motility disorders, esophageal and gastroesophageal junction cancers, reflux disease and paraesophageal hernias. She has specific clinical expertise in esophageal surgery, including minimally invasive esophagectomy for both benign and malignant disease. Additionally, Dr. Vigneswaran has expertise in bariatric surgery and performs various weight loss procedures.
Dr. Vigneswaran uses both advanced laparoscopic and robotic-assisted techniques to approach complex gastrointestinal disorders and weight loss surgery. She offers new techniques and procedures and works closely with members of the gastroenterology, nutrition and oncology teams.
Dr. Vigneswaran conducts clinical and translational research and is committed to improving outcomes for patients with gastroesophageal disorders and patients undergoing weight loss surgery. She has been recognized nationally for her research and has received several awards. She continues to advance the field with specific research interests in reflux disease after weight loss surgery and revisional surgery, esophageal cancer treatment and paraesophageal hernia surgery.
Anti-Reflux Surgery: A Patient Success Story
Musician Michael Meadows came to UChicago Medicine to treat his acid reflux. Dr. Yalini Vigneswaran came up with a plan to treat more than just his acid reflux so he could return to the stage.