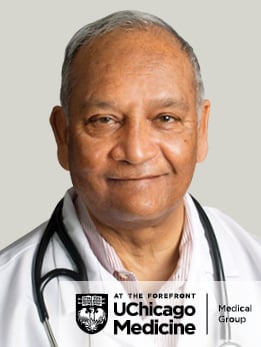 Vivek Kaistha, MD, is a board-certified physician specializing in internal medicine and geriatrics. Dr. Kaistha has a special interest in caring for seniors but has the experience, qualifications and training to capably treat all adults over 18.
Patients can expect Dr. Kaistha to invest in his relationship with them by taking the time to listen to their concerns and making sure they understand their options. He encourages patients to take a personal interest in their own healthcare and get involved in making informed decisions.
He is fluent in English, Spanish and Hindi.
UCM Medical Group physicians with privileges at the hospital are independent physicians. They are not employees or agents of the University of Chicago Medical Center or Ingalls Memorial.