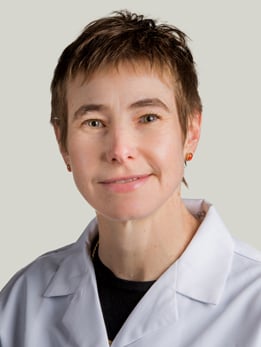 Pediatric Dermatology, Dermatology | More
Associate Professor of Pediatrics and Medicine
Director, Pediatric Dermatology
UChicago Faculty Physicians hold faculty positions with the University of Chicago and provide care for patients on the academic health system's main campus in Hyde Park and in care centers throughout the Chicago region.
Close
773-702-1611
Dr. Sarah Stein is an expert in the diagnosis and management of childhood skin diseases, including dermatitis of various types, pigmentary disorders, birthmarks, disorders of hair and nails, infectious skin conditions, and cutaneous manifestations of internal diseases. She has a special interest in the presentation of skin disease in children of color. She believes that family education and support are fundamental in pediatric patient care.
Dr. Stein is an educator and lecturer. She teaches students, trainees, dermatologists, pediatricians, and primary care physicians about childhood skin diseases. She has served as the University of Chicago Dermatology Residency Program Director since 2012. In 2006, she received the Department of Medicine's Excellence in Education and Clinical Care Award, and in 2015 she received the Postgraduate Teaching Award. She has been a Fellow of the Academy of Distinguished Medical Educators at the University of Chicago Pritzker School of Medicine since 2009 and was named as a Senior Faculty Scholar in the Bucksbaum Institute for Clinical Excellence at the University of Chicago in 2017.
A contributor to several book chapters and online dermatology reference materials, Dr. Stein also frequently publishes in medical journals, serves as a Section Editor for Clinics in Dermatology, is a reviewer for Pediatric Dermatology, Journal of the American Academy of Dermatology, and JAMA Dermatology, and is a member of the Pediatric Dermatology Content Development Committee of the American Board of Dermatology.
Pediatric Dermatology with Dr. Sarah Stein: Things You're Too Embarrassed to Ask a Doctor Season 1, Episode 4
Things You're Too Embarrassed To Ask A Doctor is UChicago Medicine's podcast dedicated to answering some of the most searched medical questions on the Internet. Can diaper rash cream help with eczema? Does baby acne hurt? Can warts kill you? This episode we hear from pediatric dermatologist Sarah Stein, MD, about the pesky lumps and bumps on our babies, kids and teens.