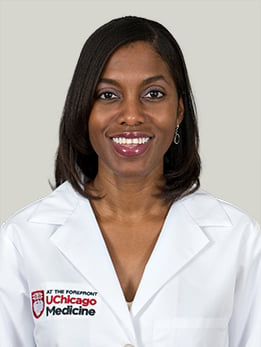 Pediatric Endocrinology, Endocrinology | More
Assistant Professor of Pediatrics
UChicago Faculty Physicians hold faculty positions with the University of Chicago and provide care for patients on the academic health system's main campus in Hyde Park and in care centers throughout the Chicago region.
Close
773-702-6138
Rochelle Naylor, MD, is a
pediatric endocrinologist
, specializing in the care of children and adolescents with diabetes and other endocrine disorders, including disorders of growth and puberty, thyroid disease and adrenal disease.
An active researcher, Dr. Naylor focuses on the diagnosis and treatment of monogenic diabetes -- a rare form of diabetes caused by genetic mutations. She studies a subset of monogenic diabetes known as maturity-onset diabetes of the young (MODY). She aims to determine the prevalence of MODY, and establish treatment protocols. As a part of this work, Dr. Naylor maintains the MODY section of the Kovler Monogenic Diabetes Registry, a nationwide database of individuals affected by this rare form of diabetes.
In addition to her roles as a clinician and researcher, Dr. Naylor is a dedicated educator, teaching medical students, interns and residents about the management of endocrine disease.