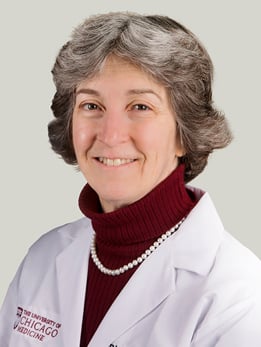 Nephrology (Kidney Disease) | More
Associate Professor of Medicine
UChicago Faculty Physicians hold faculty positions with the University of Chicago and provide care for patients on the academic health system's main campus in Hyde Park and in care centers throughout the Chicago region.
Close
773-702-6134
Rita McGill, MD, serves as medical director of University of Chicago Medicine's Davita Park Manor Dialysis, one of the hospital's four hemodialysis centers. This multidisciplinary clinic provides complete care to patients with chronic kidney disease.
A clinician-educator, Dr. McGill has specialized in renal disease for over 30 years with a focus on comprehensive, collaborative care. Her interest in integrating data analysis into her practice inspired her to earn a Masters in Clinical and Translational Science from the Sackler School of Graduate Biomedical Sciences at Tufts University.
Dr. McGill is a prolific researcher, publishing extensively on outcomes of vascular access and other dialysis treatments. She is a respected mentor to nephrology fellows and junior faculty in renal epidemiology and biostatistical support.
As a testament to her commitment to healing, Dr. McGill is a living donor, having donated a kidney to a patient in 2014.