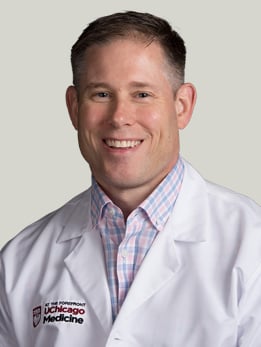 Nephrology (Kidney Disease) | More
Assistant Professor of Medicine
UChicago Faculty Physicians hold faculty positions with the University of Chicago and provide care for patients on the academic health system's main campus in Hyde Park and in care centers throughout the Chicago region.
Close
773-702-6134
Patrick Cunningham, MD, is a nephrologist specializing in treatment of glomerulonephritis and nephrotic syndrome. These diseases usually involve loss of protein or blood in the urine and are often caused by autoimmune diseases such as lupus, or genetic disorders such as APOL1-associated kidney diseases. In caring for patients with these problems, he performs ultrasound-guided kidney biopsies and manages immunosuppressive medications. His other clinical activities include the care of patients with kidney transplants and use of bedside renal ultrasound to aid diagnosis of kidney diseases.
Dr. Cunningham's research includes looking at the basic mechanisms of complement regulation in glomerular disease, the role of the immune system in acute kidney injury, and most recently how mutations in the APOL1 gene influence high blood pressure and its treatment.