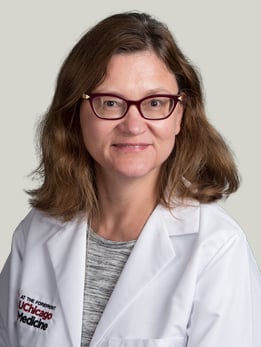 Nephrology (Kidney Disease) | More
Associate Professor of Medicine
UChicago Faculty Physicians hold faculty positions with the University of Chicago and provide care for patients on the academic health system's main campus in Hyde Park and in care centers throughout the Chicago region.
Close
773-702-6134
Nicole Stankus, MD, is a skilled clinical nephrologist. She specializes in the care of all stages of chronic kidney disease, including dialysis. She is especially interested in genetic kidney diseases, including polycystic kidney disease.
An active physician scientist, Dr. Stankus' research interests focus on various aspects of chronic kidney disease including: current treatment methods for secondary hyperparathyroidism, prevention of bone and cardiac disease, outcomes of the elderly hemodialysis patients, and prevention of hepatitis B infections in patients on hemodialysis. She also has a special interest in geriatric nephrology.