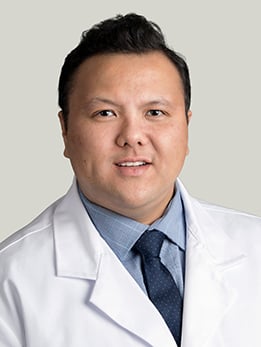 Assistant Professor of Pediatrics
Director, Neurocritical Care
UChicago Faculty Physicians hold faculty positions with the University of Chicago and provide care for patients on the academic health system's main campus in Hyde Park and in care centers throughout the Chicago region.
Close
773-702-6169
[MUSIC PLAYING] So I'm Dr. Henry David. I work in the section of Child Neurology for Comer Hospital. I do a lot of inpatient consult service. I also do consultation in the NICU as well as the pediatric ICU.

What inspired me to become a physician was really, I used to work in another industry. I was a web developer. And I kind of felt like sitting at a desk eight hours or 12 hours a day, it just wasn't for me. I felt like I needed to be on my feet. I wanted to meet new people every day.

I think what really drew me to pediatrics was the idea that there's a real family element to treatment in pediatrics, and there's an alliance you build with the parents. So you're not just treating the patient.

You're really trying to be there for a whole group of people, and really guide them through a difficult time in their lives, sometimes. And I feel like it's important that someone is there to guide parents through these times who can bring knowledge, bring expertise that really comforts them, or at least informs them.

The most rewarding aspect of my job is when I realize I've made a difference. And some people maybe-- enough people that work in our field now know that we do a lot these days that seems like small, small things we do in one moment.

But then, you know, when I follow patients up later outside the hospital, and I meet them, it's really an amazing feeling to see a child rebound. And just to meet them and have a conversation with them later is really rewarding. [MUSIC PLAYING]
Henry David, MD, is a pediatric neurologist who specializes in neurocritical care and treats children of all ages with serious neurological conditions, spanning from acute care to long-term treatment. Dr. David is also an expert in cerebrovascular disorders, including ischemic stokes and hemorrhagic strokes, and he provides comprehensive, compassionate care to his patients and their families.
UChicago Faculty Physicians who provide services at UChicago Medicine Ingalls Memorial are not employees or agents of UChicago Medicine Ingalls Memorial.